What is Trae Young Net Worth?
Trae Young Net Worth is US$ 20 Million as of 2022.
| | |
| --- | --- |
| Net Worth | US$ 20 Million |
| Born: | September 19, 1998 (25 Years) |
| Full Name | Rayford Trae Young |
| Nick Name | Ice Trae |
| Gender | Male |
| Height | 6′ 1" |
| Horoscope | Virgo |
| Country of Origin | Lubbock, Texas |
| Source of Wealth | Basketball Player |
| Marital Status | Unmarried |
| Girlfriend | Shelby Miller |
| Child | 1 |
| Famous For | Atlanta Hawks Star |
Biography
Trae was born on 19 September 1998. He is a professional basketball player who plays for the Atlanta Hawks in the NBA. He was a college basketball player for the Oklahoma Sooners. He tied the record for single-game assists in National Collegiate Athletic Association Division I with 22 in 2017. Young was the NCAA's only player to lead both assists and points in a single season. He was nicknamed as "Ice Trae". In 2018, he was selected in NBA Draft by the Dallas Mavericks with the fifth pick. He was later traded to Atlanta Hawks with a future first-round pick for draft rights to Luka Doncic. He has been selected to the NBA All-Star team two times.             
Timeline
On 3 January 2022, he scored 56 points, along with 14 assists, in a 136–131 loss to the Portland Trail Blazers.
On 3 August 2021, Trae agreed to a 5-year extension with the Hawks worth up to $172 million.
On 23 January 2020, he was selected for the NBA All-Star selection as a backcourt starter.
On 25 February 2019, he scored 36 points and made career high eight 3-pointers in a 119–111 loss to the Houston Rockets.
On 1st July 2018, Trae officially signed with the Hawks.
Early Life
Trae was born in Lubbock, Texas, on 19th September 1998. He is the son of Candice and Rayford Young. His father played college basketball at Texas Tech as well as professionally in Europe. Young has an uncle who was a college basketball player in the NAIA. Trae was raised by his paternal grandparents and his mother in Pampa, Texas. Trae completed his schooling at Norman North High School in Oklahoma. He averaged 25 points per game, 5 assists, and 4 rebounds, and helped Norman North win the 2015 area championship. He was also named 'Oklahoma Sophomore of the Year'. He improved his game during his junior year.  
Trae has been engaged to Shelby Miller, his long-term partner and college Girlfriend. Three of his younger siblings are Timothy, Caitlyn, and Camryn. He was featured in the second season of 'Rookie On the Rise' of the Young Hollywood original documentary series.
Career
Trae was the 5th overall selection by the Dallas Mavericks in the 2018 NBA Draft. However, he was traded to Atlanta Hawks with a future-protected first-round pick and the rights to Luka Doncic, the third overall pick. Young signed the official contract with the Hawks on 1st July 2018. He had a season-high 35 points, and 11 assists in a win of 133 to 111 over the Cleveland Cavaliers. Trae's then career-high of 17 assists and 25 points, as well as three rebounds, was achieved on November 19 in a 127–119 loss to Los Angeles Clippers.
Trae's career-high 36-point total and career-high eight 3-pointers were achieved on 25 February 2019 in a 119-112 loss to the Houston Rockets. He scored 36 points and had 10 assists on February 27 in a 131-123 overtime win against the Minnesota Timberwolves. Young broke his season record two days later, scoring 49 points and 16 assists in a high-scoring loss to the Chicago Bulls on March 1. He scored the game-winner on March 31 and had 12 points, 16 assists, and a block against Milwaukee Bucks. He was selected in unanimity to the 2019 NBA All-Rookies First Team.
In his second season with the Hawks, he scored 38 points against the Detroit Pistons on 24 October 2019. He also scored 21 points in the fourth quarter in a 105 -104 overtime loss against the Indiana Pacers. Trae was selected as a backcourt starter for the NBA All-Star selection on 23 January 2020. He scored 45 points and had 14 assists against the Washington Wizards on 26 January. Young wore No. 8 in memory of Kobe Bryant, for the first 8 seconds. He scored 39 points and had a career-high of 18 assists four days later in a 127–117 victory over the Philadelphia 76ers.
Trae made his NBA playoff debut on May 23, 2021. He scored 32 points, 7 rebounds, and 10 assists against New York Knicks. The Hawks won Game 1 of the First round 107-105 with the game-winning floater with 0.9 seconds left. Young joined Chris Paul, LeBron James, and Derrick Rose in recording 30 points and 10 assists during their playoff debuts.
Young scored 39 points, 7 assists, and 3 steals in a 109-106 win over the Philadelphia 76ers to lead the Hawks to a 26-point comeback victory. He scored 21 points in Game 7 of the Conference Semi-finals to help the Hawks defeat the Sixers and reach their first Eastern Conference Finals appearance. He scored 48 points in Game 7 of the Conference Semi-finals. He also had 11 assists and seven rebounds, a playoff record. The Hawks defeated the Sixers to reach their first Eastern Conference Finals appearance since 2015. He missed games 4 and 5 because of a bone bruise on his right foot. He was able to return in game 6, but the Hawks lost by 118-107, which ended their season.
Trae signed a 5-year extension of the contract with the Hawks on 3 August 2021. It was worth US$ 172 million and possibly US$ 207 million. He scored 42 points a then season-high, with 8 rebounds, 10 assists, and 10 assists to lead Atlanta to a 120-100 win over the Milwaukee Bucks. Young also had 17 consecutive 25-point games from November 22 through January 7, 2022. This broke a tie with Dominique Wilkins, who holds the franchise record. He was selected as a backcourt starter in the 2022 NBA All-Star Game. Trae joined Tiny Archibald as the second player to lead the league's total assists, and points scored in a regular season. He was a member of the U.S. men's national U18 team. In 2016, the team won a gold medal at the FIBA Americas Under-18 Championship.
Highlights
McDonald's All-American – 2017
NCAA season assists leader – 2018
NBA All-Rookie First Team -2019
NBA All-Star – 2020
Brand Endorsements
Trae Young makes around US$ 3 million from endorsements. Adidas signed him to a multi-year shoe deal that will pay him up to US$ 1.8 million per year. Adidas released a signature shoe with the young star. He endorses Old Spice, Bodyarmor, and Tissot as well as Chipotle, eBay, and Fortnite.
Favorite Quotes from Trae Young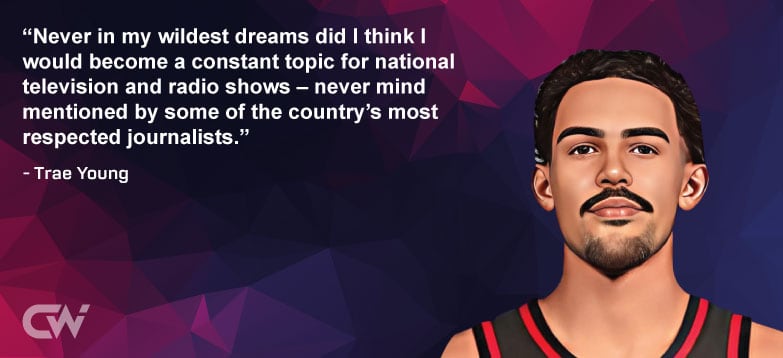 "Never in my wildest dreams did I think I would become a constant topic for national television and radio shows – never mind mentioned by some of the country's most respected journalists."  

– Trae Young
"My hair is different than a lot of people's. I like the little design I have. I'm cool with it. Obviously, my hair is thin on top, so it looks like a bald spot, but I really could care less." 

– Trae Young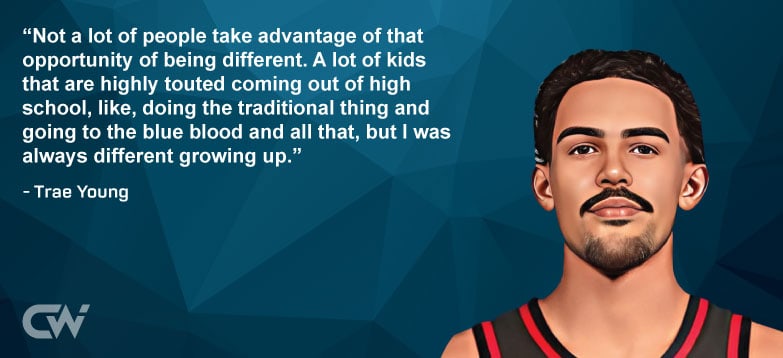 "Not a lot of people take advantage of that opportunity of being different. A lot of kids that are highly touted coming out of high school, like, doing the traditional thing and going to the blue blood and all that, but I was always different growing up."

– Trae Young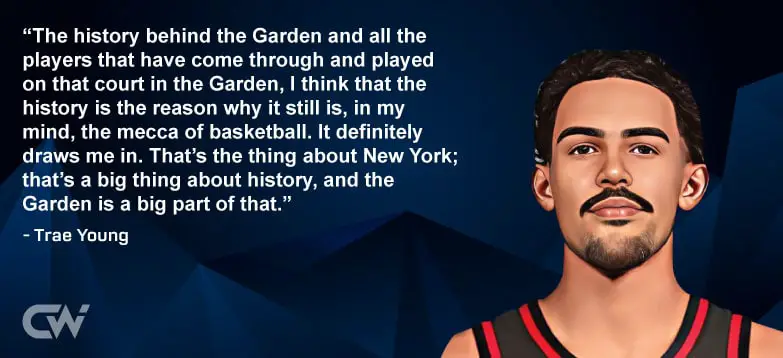 "The history behind the Garden and all the players that have come through and played on that court in the Garden, I think that the history is the reason why it still is, in my mind, the mecca of basketball. It definitely draws me in. That's the thing about New York; that's a big thing about history, and the Garden is a big part of that."

– Trae Young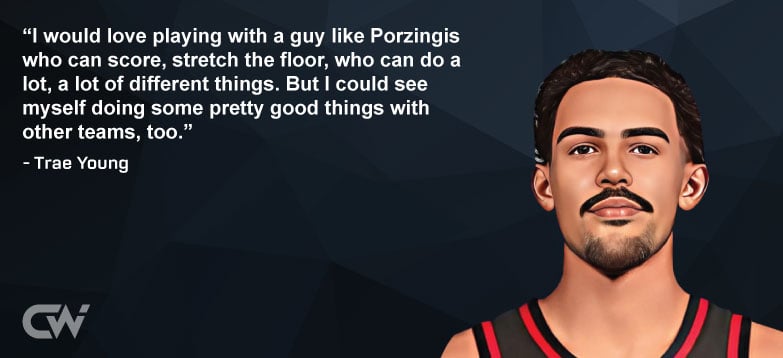 " I would love playing with a guy like Porzingis who can score, stretch the floor, who can do a lot, a lot of different things. But I could see myself doing some pretty good things with other teams, too."

– Trae Young
Keys Life Lessons from Trae Young
We now know everything about Trae Young and his net worth. Let's look at some of his lessons.
1. Trust
Always trust yourself that you can do it and get it.
2. Believe in Yourself
Don't let the things that you can't do interfere with what you can do.
3. Put Your Mind to It
You can do anything for which you set your mind to do.
Frequently Asked Questions
Who is Trae Young's dad?
Rayford Young is his father.
Does Trae Young have a baby?
Tydus Reign Young is his son.
What kind of car does Trae Young Drive?
Trae Young drives a $138,000 Matte Black Audi R8.
Summary
Trae established the 'Trae Young Foundation' in 2019 to spread education about mental health. Their website states that the foundation will "inspire and help make positive impacts on all children, adults, and families who are affected by Mental Health issues." He recently helped to clear medical debts in excess of US$ 1 million for Atlanta families. He was also awarded the January NBA Cares community assist award.
What do you think about Trae Young net worth? Leave a comment below.
---
---