What is LeBron James Net Worth?
LeBron James Net Worth is US$ 850 Million in 2022.
| | |
| --- | --- |
| Net Worth | US$ 850 Million |
| Born: | December30, 1984 (38 Years) |
| Full Name | LeBron Raymone James Sr. |
| Gender | Male |
| Height | 6′ 9" |
| Horoscope | Capricorn |
| Country of Origin | Akron, Ohio, United States |
| Source of Wealth | Professional Basketball Player and Investments |
| Marital Status | Married |
| Spouse (s) | Savannah James (M. 2013) |
| Children | LeBron "Bronny" James Jr., Bryce Maximus James, and Zhuri Nova James |
| Famous For | Four-time NBA champion |
Biography
LeBron is an entrepreneur and American basketball player with a net worth of about US$ 850 million. After lighting up the high school basketball scene, LeBron left college to play professionally and was selected by the Cleveland Cavaliers as the 1st pick in the 2003 NBA draft. From 2003 to 2010, he was a Cavs player. He then took the decision to play for Miami, where he played in 2010 and 2014. He was the Heat's leader to two NBA championships playoffs held in 2011-12 and 2012-13 seasons. From 2014 to 2018, he was back with the Cavs, winning the Championship in 2016. He moved to Los Angeles Lakers in 2018. In 2020, he won the Championship with LA. He is currently the 6th highest-paid player in NBA. His base salary for a year is about US$ 41.1 million.
LeBron is a celebrity who is not only a star in sports but also one of the most powerful and well-respected on the planet. His endorsements gave him more than US$ 60 to US$ 90 million per year and he has a Nike US$ 1 billion lifetime contract. His fame and wealth have been turned into a business empire with investments in several start-ups. He is a minority shareholder of Liverpool, as he entered into a partnership with Fenway Sports Group, who is the sole marketer for his global rights. This partnership landed him a stake in EPL's Liverpool.
Timeline
On 18 August 2022, He re-signed with the Los Angeles Lakers on a two-year, US$ 97.1 Mn deal.
For the 2021–22 season, LeBron was joined by Carmelo Anthony and Russell Westbrook. In December, he became the 2nd player in NBA history to post 40 points and 0 turnovers at the age of 35 or older.
On 31 December 2020, he became the 1st player in NBA history to score 10 points or more in 1,000 consecutive games in a 121–107 win against the Spurs.
On 25 January 25, he passed team legend Kobe Bryant for third on the all-time regular season scoring list, the day before Bryant's death in a helicopter crash.
Early Life
LeBron was born in Akron, Ohio on 30 December 1984 to Gloria Marie James. His father, Anthony McClelland, was not involved in his life due to his long criminal history. Gloria realized that James would benefit from a stable environment as she struggled to find a stable job in the neighborhood and allowed him to live with Frank Walker, a local youth basketball coach when he was nine years.
He started playing organized basketball in 5th grade. In a controversial move, the group chose to attend St. Vincent–St. Mary High School, a private Catholic high school that has primarily white students.
Career
High School Career
James had averaged 21 points and 6 rebounds per game of the St. Vincent–St. Mary basketball team. LeBron followed this run with an average of 25.2 points, 5.8 assists, 7.2 rebounds, and 3.8 steals per game, and won another state title with "Fighting Irish" and finished the games with 26-1. He was also selected in All-USA First Team as a sophomore and was awarded "Ohio Mr. Basketball," thus he become the 1st sophomore to do both.
During his junior years, James averaged 29 points, 5.7 assists, 8.3 rebounds, and 3.3 steals per game and was again selected as Ohio Mr. Basketball and the USA Today All-USA First Team, he was also the first junior to be named as Male basketball Gatorade National Player of the Year. He had also appeared on the cover of Sports Illustrated, becoming the 1st high school basketball player to do so. In his senior year, he scored 52 points a career-high for St. Vincent–St. Mary and won the Division II championship, their 3rd division title in 4 years.
Professional Career
2001 – 2010
In 2003, LeBron was selected for the Cleveland Cavaliers, the 1st overall pick in the NBA draft of 2003. He scored 25 points against Sacramento Kings, a record by a prep-to-pro player in the debut game. For the 2003-04 season, he was the 1st Cavalier to receive the NBA Rookie of the year award.
LeBron was selected for his first NBA All-Star Game selection in the 2004-05 season. He contributed 13 points, 8 boards, and 6 assists to a winning effort for Eastern Conference. He was selected to All-NBA Team, with an average of 27.2 points, 7.4 rebounds, 7.2 assists, and 2.2 steals per game, this was his first All-NBA selection. He led the East to victory at the 2006 All-Star Game with 29 points. He was also named the NBA All-Star Game MVP. He was named All-Star Game MVP in February 2007 after a 27-point, 8-rebound and 9-assist performance.
James was 2nd in the 'NBA Defensive Player of the Year Award' voting at the end of 2008-09 and was named to his first NBA All-Defensive Team. He posted 23 chase-down blocks, a career-high of 93 blocks, and became the 4th post-merger player in leading his team in blocks, points, rebounds, and assists in a single season.
2011 – 2013
LeBron announced that he would sign for the Miami Heat on July 8th via a live telecast on ESPN, with a special episode titled "The Decision." The Boys & Girls Club in Greenwich, Connecticut is the place from where the telecast was broadcasted. It raised US$ 2.5 million for charity and along with that US$ 3.5 million was also raised from advertising revenue, which was also donated to charity as well. He signed with the Heat as a result of a Sign-and-Trade deal. This sent two 2nd-round draft picks and two 1st-round picks to the Cavaliers. The team also had the option to trade first-round picks with the Heat in 2012.
A lockout stalled the 2011-12 season. James spent that extended summer working with Hakeem Olajuwon to improve his post-up game. He was finally named MVP for the 3rd consecutive year. His averages were 27.1 points and 7.9 rebounds per game, with 6.2 assists and 1.9 steals. Miami won Game 7 and advanced to the Finals. They were matched up with Kevin Durant, the Oklahoma City Thunder's James young rival.
James was unanimously elected as the Bill Russell NBA Finals MVP with an average of 28.6 points and 10.2 rebounds per game. He also had 7.4 assists per game. He scored 29.7 points per game and received 7.8 assists in February of the 2012-13 season. He also set multiple shooting efficiency records. He scored a franchise record and a career-high of 61 points against the Charlotte Bobcats on March 3, 2013.
2014 – 2020
James decided to leave his Heat contract on June 25, 2014, and on July 1 became an unrestricted, free agent. James revealed in a first-person essay published in Sports Illustrated, that he wanted to return to the Cavaliers and signed with them on July 12 of the same year. James was out of action for two weeks in January of the 2014-15 season. This was his longest absence from games during his career. He had some of the greatest moments of his career with Cav, including the game-winning shot against the Pacers and another against the Raptors, and led his team to playoffs in the 2017-2018 season.
In June 2018, James opted out of his contract with Cleveland and became an unrestricted free agent. In the following month, his management agency announced that LeBron would sign with LA Lakers. Since then he is the part of the Lakers. In the 2019-2020 season, Los Angeles Lakers won the Championship by defeating Miami Heat and James averaged 29.8 points, 11.8 rebounds, and 8.5 assists per game, earning him his fourth NBA MBP Award and his fourth Championship. He became the only player in NBA history to achieve this feat with 3 different teams.
2021 – Present
James was joined by Carmelo Tony and Russell Westbrook for the 2021-22 season.
James became the 2nd player, after Michael Jordan, to score 40 points and have zero turnovers when he was 35 years old. He also became the oldest NBA player to score at least 25 points in ten consecutive games at the age of 37. He is the fifth player in NBA History to reach at least 30,000 career points and 10,000 careers rebound records. He is also the first player to achieve at least 30,000 career points, 10,000 career assists, and 10,000 career rebounds.
In August 2022, James re-signed a two-year deal with the Lakers for US$ 97.1 million. This contract made him the highest-paid NBA player with US$ 528.9 million in all-time earnings.
LeBron James Net Worth Growth
James' net worth has grown significantly over the past few years. This is due to his enormous success as an NBA player as well as his endorsements and investments. James is an investor in the pizza chain Blaze Pizza since 2012 and has investments in Lobos 1707, a tequila and mezcal company. Moreover, he is a partner in Fenway Sports Group which made him a shareholder in Boston Red Sox, New England Sports Network, RFK Racing, and Liverpool F.C.
| | |
| --- | --- |
| Net Worth in 2022 | US$ 850 Million |
| Net Worth in 2021 | US$ 790 Million |
| Net Worth in 2020 | US$ 720 Million |
| Net Worth in 2019 | US$ 680 Million |
| Net Worth in 2018 | US$ 630 Million |
Highlights
Awards won by LeBron James are:
18× NBA All-Star – 2005 to 2022
Time Athlete of the Year – 2020
USA Basketball Male Athlete of the Year – 2012
4 times NBA champion – 2012, 2013, 2016, 2020
Brand Endorsements
LeBron has various endorsement deals. Some of the companies with which he had done business are Coca-Cola, Nike, Audemars Piguet, and Dunkin' Brands. After his high school, he was targeted by Reebok, Adidas and Nike for deals. His signature shoes gained popularity and helped Nike. In 2011, Fenway Sports Group became the sole market for his global rights and he was granted a minority stake of 2% in a football club named 'Liverpool F.C.' In 2015, he was ranked 6th highest-earning sportsman and the 3rd in 2016. In 2011, he cofounded UNKNWN, a Designer retail store in Florida.  
Favourite Quotes from LeBron James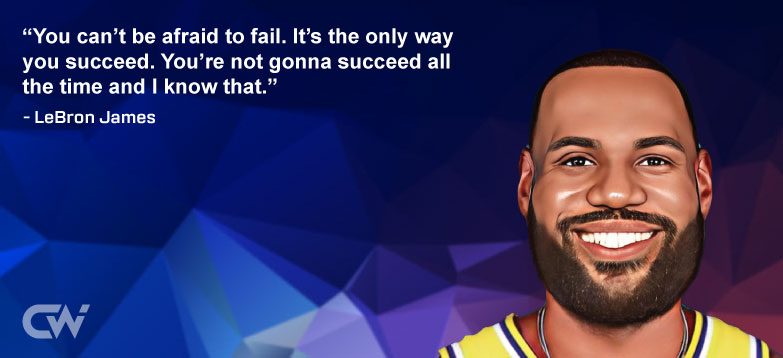 "You can't be afraid to fail. It's the only way you succeed. You're not gonna succeed all the time and I know that."  

– LeBron James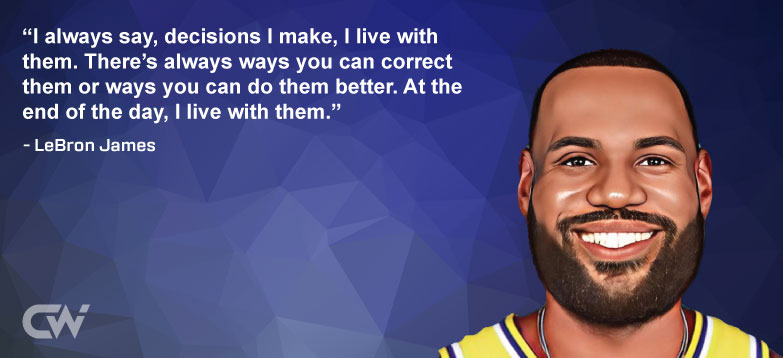 "I always say, decisions I make, I live with them. There's always ways you can correct them or ways you can do them better. At the end of the day, I live with them."

– LeBron James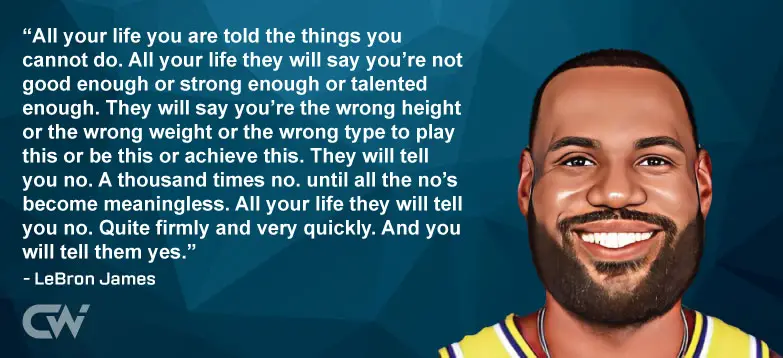 "All your life you are told the things you cannot do. All your life they will say you're not good enough or strong enough or talented enough. They will say you're the wrong height or the wrong weight or the wrong type to play this or be this or achieve this. They will tell you no. A thousand times no. until all the no's become meaningless. All your life they will tell you no. Quite firmly and very quickly. And you will tell them yes."

– LeBron James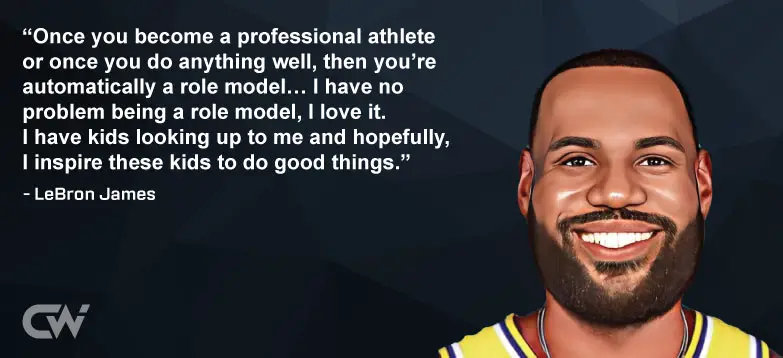 "Once you become a professional athlete or once you do anything well, then you're automatically a role model… I have no problem being a role model, I love it. I have kids looking up to me and hopefully, I inspire these kids to do good things."

– LeBron James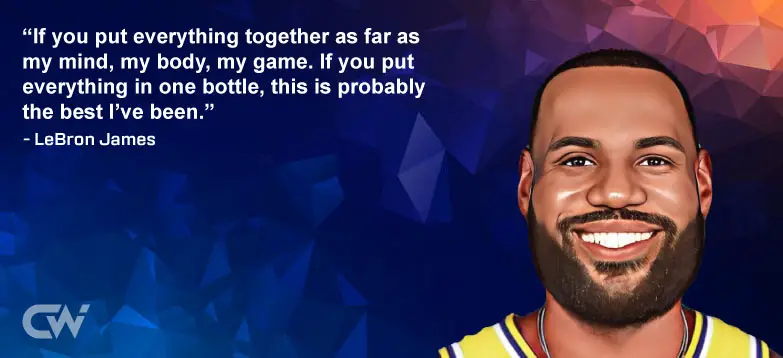 " If you put everything together as far as my mind, my body, my game. If you put everything in one bottle, this is probably the best I've been."

– LeBron James
Keys Life Lessons from LeBron James
We now know everything about LeBron James and his net worth. Let's look at some of his/her lessons.
Use the gifts that god gave you
Be Willing To Reconcile
Learn From Others
Don't Forget Your Roots
Take Care Of Yourself So That You Can Give Of Yourself
Don't be afraid to cry
Keep your word
Frequently Asked Questions
What made LeBron James so famous?
James has won three National Basketball Association (NBA) championships and four NBA MVP awards.
Who is LeBron's real family?
LeBron James and his wife Savannah have three children: LeBron "Bronny" James Jr., Bryce Maximus, and Zhuri Nova. LeBron James and Savannah James might be NBA royalty, but their most important titles are Dad and Mom.
How long has LeBron James been married?
In September 2022, LeBron celebrated nine years of his supportive marriage.
Summary
James spent most of his career playing small forward and power forward, but he also played other positions when needed. His athletic and versatile playing style has been compared to Magic Johnson and Oscar Rob. James strongly supports non-profit organizations such as After-School All-Stars and Boys & Girls Clubs of America. He also has his own charity foundation, LeBron James Family Foundation. In 2015, James announced a partnership to provide scholarships for up to 2,300 children starting in 2021.
What do you think about LeBron James' net worth? Leave a comment below.
---
---