What is Jayson Tatum Net Worth?
Jayson Tatum Net Worth is US$ 25 Million as of 2022.
| | |
| --- | --- |
| Net Worth |  US$ 25 Million |
| Born | March 3, 1998 (25 Years) |
| Gender | Male |
| Height | 6′ 8" |
| Horoscope | Pisces |
| Country of Origin | United States of America |
| Source of Wealth | Professional Basketball Player |
| Marital Status | Unmarried |
| Girlfriend | Ella Mai |
| Children | Son – Deuce (Toriah Lachell – Ex-Girlfriend of Tatumm) |
Biography
Jayson Tatum is an American professional basketball player, for Boston Celtics and is also part of the US National Basketball Team. He played basketball for Duke Blue Devils in his college days. He was the most valuable player for NBA Eastern Conference Finals in 2022. He was part of the US Gold Medallist Basketball Team at the Tokyo Olympics games in 2020. Jason has total net worth of US$ 25 million in 2022.
Early Life
Jayson Tatum was born on March 3, 1998. His father, Justin Tatum was a basketball player and now a basketball coach at Christian Brothers College High School in St. Louish. Jayson's mother Brandy Cole is an attorney. He went to high school at Chaminade College Preparatory School, where he became friends with Matthew Tkachuk, who currently is a forward Florida Panthers in National Hockey League (NHL). Jayson is a godson of Larry Hughes, a former NBA basketball player, as he was his father's high school and college teammate.
Career
2016-2018
He started his college basketball career in 2016, with Duke Blue Devils, and during his first match on December 3, 2016, he scored 10 points against Maine thus winning the match. On December 6, 2016, he scored 22 points and 8 rebounds against Florida. In the following week, he was named ACC Freshman of the Week. On January 4, 2017, he scored 19 points against Georgia Tech in a win of 110-57. On February 15, 2017, Jayson scored his season's highest score of 28 points and 8 rebounds against Virginia.
Tatum was selected in the All-ACC Tournament team after performing 22.0 points, 7.5 rebounds, and 1.5 steals per game for his team Blue Devils. Due to such scores and Jayson's excellent performance, Duke's won the ACC Tournament Championship of 2016-2017. During 2016-17 season, he scored 16.8 points, 2.1 assist, 1.3 steals, and 7.3 rebounds per game for the Duke in 29 games. Jayson was selected to a third team All-ACC selection and ACC All-Freshman team.
In 2017-18, during rookie season, he was received by Boston Celtics from Philadelphia 76ers, as a part of a earlier deal. In his debut game, Tatum scored 14 points in the match with Cleveland Cavaliers. On October 24, 2017, Tatum recorded his season's highest score of 24 points against New York Knicks.  He recorded more than 20 points in 10 playoff games and became the only rookie to do that in first playoff. LeBron James praised Jayson for his performance as "He is built for stardom." On May 22, 2018, he was selected to the First NBA All-Rookie Team.
2018 – 2020
In the 2018-19 season, he scored 23 points, 3 assist, and, 9 rebounds against the Philadelphia 76ers in the opening game of the season for Celtics. He scored 24 points in 2016 against both New York Knicks and Oklahoma City Thunder. On December 25, Jayson scored 23 points and 10 rebounds against the Philadelphia 76ers, thus winning the match. On March 6, he scored again 24 points in a match with  Sacramento Kings with 2 assists and 3 rebounds. Tatum won Skills Challenge competition during NBA All-Star Weekend.
During 2019-20 season, On December 22, 2019, he scored a career high of 39 points against Charlotte Hornets.
Jayson broke his previous career high (39) and recorded 41 points against New Orleans Pelicans on January 11, 2020. Tatum was selected in NBA All-start for the first time in his career on January 30, 2020. After the COVID-19 pandemic, on July 21, 2020, he shoot 2-18 against Milwaukee Bucks, but in the next game, he shoot 11-22 and scored 34 points in the win against Portland Trail Blazers. Jayson Tatum was named to All-NBA Third Team for the season.
In November 2020, Jayson and Celtics signed a rookie extension contract of 5 years worth US$ 195 million. In the 2020-2021 season, Tatum scored 30 points on December 23, 2020, against Milwaukee Bucks in the season's opening game.
2021 – Present
On January 3, 2021 he scored 24 points and career high of 12 assists against Detroit Pistons. He scored a season-high of 40 points on the next day against Toronto Raptors. on February 23, 2021, he received a call for the NBA All-star Game as Eastern Conference reserve for a second consecutive year. On May 18, 2021, he scored 50 points against Washington Wizards and became one of the elite players to achieve the milestone of scoring 50+ points in a playoff game and achieve a perfect 17/17 from the free throw line. He became 5th highest point scorer in a postseason at the age of 23 years.
In the 2021-2022 season, On October 25, 2021, he scored 41 points against Charlotte Hornets. On January 23, 2022, he scored his season high of 51 points, with 7 assists, 10 rebounds against Washington Wizards. He broke his own record of season high against Brooklyn Nets with 54 points. He was named MVP after averaging 25.0 points, 8 rebounds, and 5.5 assists per game in the series. He had set a record in NBA with 100 turnovers in a single postseason.
Jayson Tatum Net Worth Growth
Jayson Tatum has a total net worth of US$ 25 million in 2022. In 2020, he signed a five-year contract of US$ 195.6 million with the Celtics. He will receive the contracted value only if he meets the condition of becoming the MVP. If the criteria are not met, then he will receive a value of US$ 163 million by his contract.
Highlights
2016 – Mr. Show-Me Basketball
2016 – Gatorade National Player of the Year
2016 – McDonald's All-American
2017 – ACC All-Freshman team
2017 – Third-team All-ACC
2018 – NBA All-Rookie First Team
2020 – All-NBA Third Team
2020 and 2021 – NBA All-Stars
Brand Endorsement
Jayson has made endorsement deals with various brands such as Imo's Pizza, Jordan Brands, Subway, and Gatorade.
Keys Life Lessons from Jayson Tatum
We now know everything about Jayson Tatum and his net worth. Let's look at some of his lessons.
1. Follow Dreams
If we follow our dreams, we reach the peak of our careers as we enjoy the journey to achieve our goals. While chasing dreams, we put extra effort and time into reaching milestones.
2. Always look at positive things
Life's journey is full of surprises; we often face different challenges and problems. We must remember that life is full of ups and downs that need to keep changing with time.
Favorited Quotes from Jayson Tatum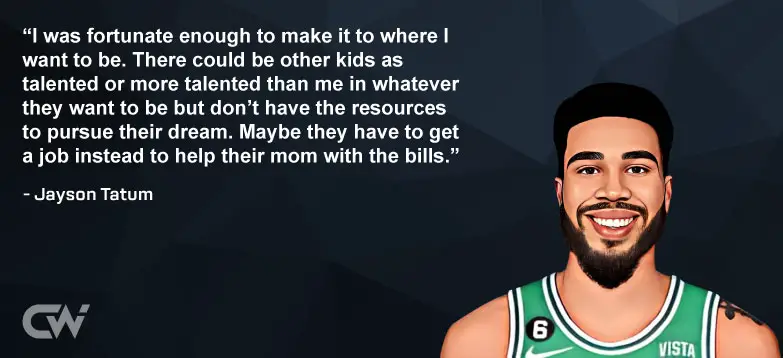 "I was fortunate enough to make it to where I want to be. There could be other kids as talented or more talented than me in whatever they want to be but don't have the resources to pursue their dream. Maybe they have to get a job instead to help their mom with the bills." 

 – Jayson Tatum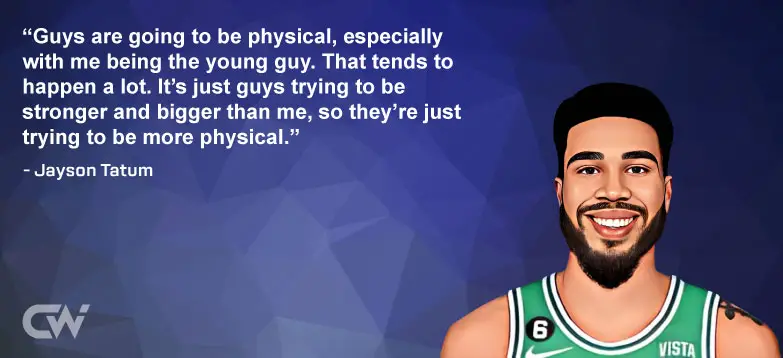 "Guys are going to be physical, especially with me being the young guy. That tends to happen a lot. It's just guys trying to be stronger and bigger than me, so they're just trying to be more physical."

 – Jayson Tatum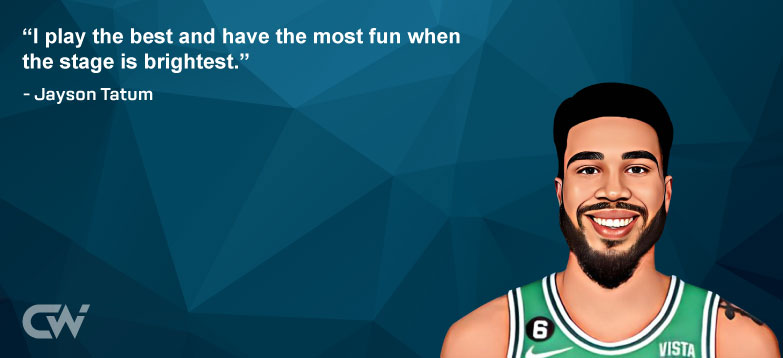 "I play the best and have the most fun when the stage is brightest." 

– Jayson Tatum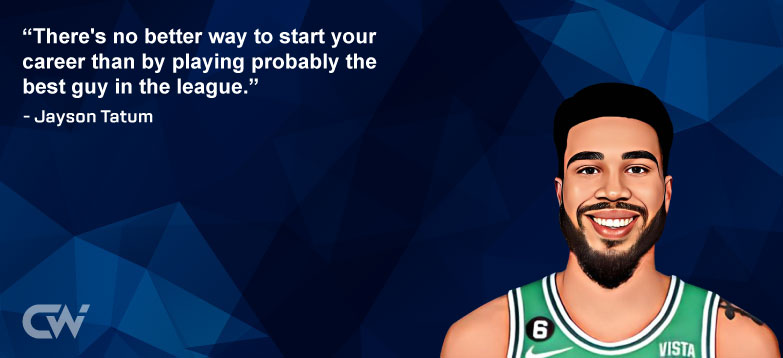 "There's no better way to start your career than by playing probably the best guy in the league." 

– Jayson Tatum
Frequently Asked Questions
How much money does Jayson Tatum have?
Jayson Tatum's net worth was estimated at US$ 25 million as of 2022
Is Jayson Tatum married?
Jayson Tatum is not married.
Summary
Jayson Tatum is one of the emerging basketball players in the NBA. He has a total net worth of US$ 25 million. He has earned his net worth from contracts with teams and brand endorsements. Jayson has qualities such as hard work and passion that helped him succeed. He is an inspiration for many people who are related to basketball.
What do you think about Jayson Tatum's net worth? Leave a comment below.
---
---