What is Tim Cook Net Worth?
Tim Cook net worth is US$ 1.8 Billion as of January 2023.
| | |
| --- | --- |
| Net Worth | US$ 1.8 Billion |
| Born | November 1, 1951 (71 Years) |
| Full Name | Timothy Donald Cook |
| Gender | Male |
| Height | 6′ 3" |
| Horoscope | Scorpio |
| Country of Origin | Mobile, Alabama, The US |
| Source of Wealth | CEO of Apple Inc. |
| Marital Status | Single |
| Famous For | CEO of Apple Inc. |
Biography
Tim Cook is an American business executive, industrial engineer, and philanthropist who has served as the Chief Executive Officer of Apple Inc. since August 2011. Before joining Apple in 1998, Cook held various roles at companies such as IBM and Compaq.
At Apple, he initially served as the Senior Vice President for Worldwide Operations before eventually succeeding Apple's co-founder, Steve Jobs, as CEO. Under Cook's leadership, Apple continued to expand its product portfolio and became the first company to reach a Trillion-Dollar market valuation. Known for his focus on social responsibility and environmental sustainability, Cook came out as g@y in 2014, making him the first openly g@y CEO of a Fortune 500 company. His tenure at Apple has been marked by groundbreaking product launches, impressive financial performance, and a steadfast commitment to fostering diversity and inclusion.
Cook made several other high-profile appearances, including at concerts and government offices, in addition to his usual appearances at WWDC and other Apple events. In 2022, travel on the usual "world tour" basis also resumed.
Timeline
Cook graduated from Auburn University with a bachelor's degree in industrial engineering.
Received his MBA from Duke University's Fuqua School of Business.

Started working at IBM's Personal Computer business, eventually becoming Director of North American Fulfillment.
Served as the Chief Operating Officer of the Reseller Division at Intelligent Electronics.
Became the Vice President for Corporate Materials at Compaq for about six months.

Cook joined Apple, brought in by then-CEO Steve Jobs. He started as Senior Vice President for worldwide operations.
Promoted to Chief Operating Officer and also served as a board member of shoe and athletic apparel firm Nike.
Temporarily took over the CEO duties while Steve Jobs was on medical leave.
In January, he again took over the CEO responsibilities during Jobs's medical leave.

On August 24, after the resignation of Steve Jobs, Cook was named the new CEO of Apple Inc.
Tim Cook Won Ripple of Change Award, Fortune's World's Greatest Leader Award & Alabama Academy of Honor: Inductee.
As of now, he continues to serve as the CEO of Apple.
Early Life
Tim Cook was born on November 1, 1960, in Mobile, Alabama, and raised in the small town of Robertsdale. He is the second-born among three brothers in a humble family. His father, Donald, was a shipyard worker, and his mother, Geraldine, worked at a pharmacy. Growing up in the heart of the racially segregated South, Cook developed an early awareness of social injustices, which would later shape his approach to business and human rights. He was a diligent student, showing a particular affinity for mathematics and science.
Cook worked part-time jobs to save for his education, including delivering newspapers, working in a paper mill, and later in an aluminum factory, experiences that he claims taught him the value of hard work and resilience. He pursued higher education at Auburn University in Alabama. He graduated with a bachelor's degree in Industrial Engineering in 1982. The first in his family to graduate from college, Cook would later attend Duke University, earning his Master of Business Administration (MBA) in 1988.
Career
Tim Cook, the current Chief Executive Officer (CEO) of Apple Inc., started his career in the technology industry at IBM in 1982, immediately after obtaining his Bachelor's degree in Industrial Engineering from Auburn University. He spent twelve years at IBM, where he rose to the position of Director of North American Fulfillment. Additionally, Cook completed an MBA at Duke University's Fuqua School of Business during his tenure at IBM.
After IBM, Cook worked at Intelligent Electronics as Chief Operating Officer (COO) of the Reseller Division, and later at Compaq as Vice President of Corporate Materials for a brief period. His career trajectory changed dramatically when, in 1998, he was recruited by Steve Jobs to join Apple as Senior Vice President for Worldwide Operations. Cook is largely credited with revitalizing Apple's supply chain, making it one of the most efficient in the world. His successful efforts led to his promotion to COO in 2007.
In 2011, amid Steve Jobs's declining health, Cook was appointed CEO of Apple. His tenure as CEO has seen the introduction of new products such as the Apple Watch and the iPhone X, and the expansion of the company's services like Apple Music and Apple TV+. Despite facing various challenges, Cook has successfully steered the company through the post-Jobs era, maintaining Apple's status as one of the most valuable companies in the world.
Tim Cook's Net Worth Growth
Tim Cook's net worth grew from US$ 1.5 Billion to US$ 1.8 Billion in 2023 over the past years.
| | |
| --- | --- |
| Net Worth in 2023 | US$ 1.8 Billion |
| Net Worth in 2022 | US$ 2.0 Billion |
| Net Worth in 2021 | US$ 1.3 Billion |
| Net Worth in 2020 | US$ 1.5 Billion |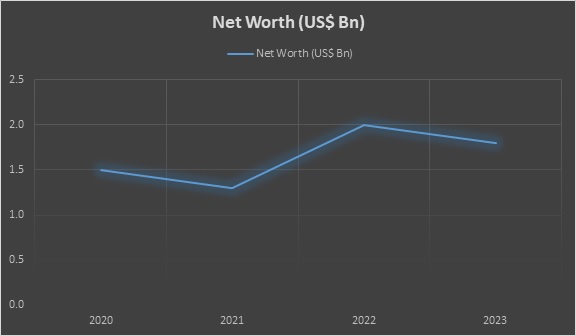 Highlights
Cook was named the new chief executive officer of Apple Inc. on August 24, 2011.
Tim Cook openly came out as gay specifically to use his position to help others in 2014.
Tim Cook Became Nike's Lead Independent Director in 2016.
Cook raised money for Hillary Clinton's presidential campaign during the 2016 election. Cook was considered as a potential Vice President candidate by the Clinton campaign at one point.
Favorite Quotes from Tim Cook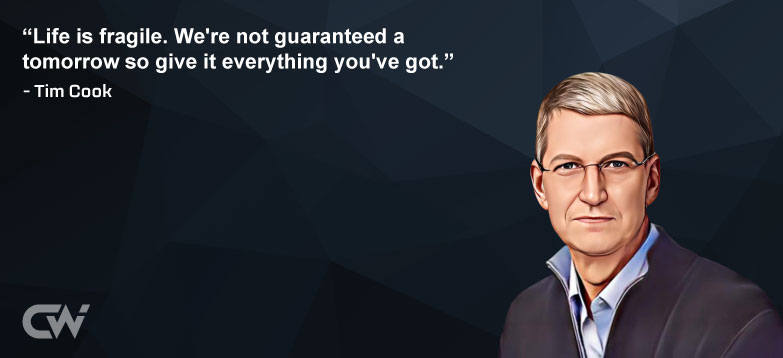 "Life is fragile. We're not guaranteed a tomorrow so give it everything you've got." 

– Tim Cook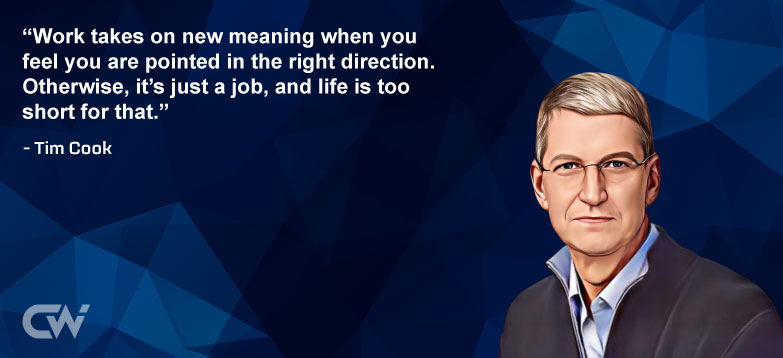 "Work takes on new meaning when you feel you are pointed in the right direction. Otherwise, it's just a job, and life is too short for that." 

– Tim Cook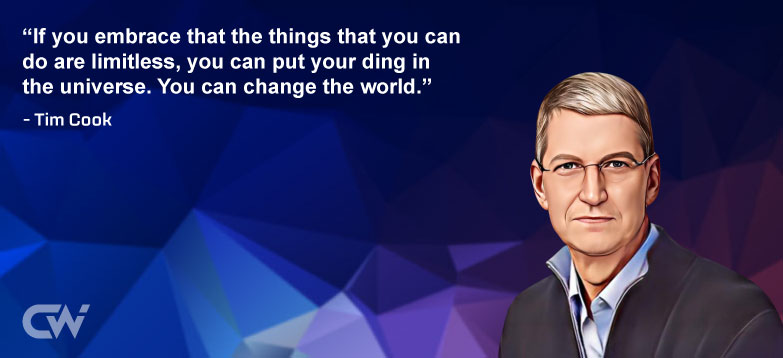 "If you embrace that the things that you can do are limitless, you can put your ding in the universe. You can change the world."

– Tim Cook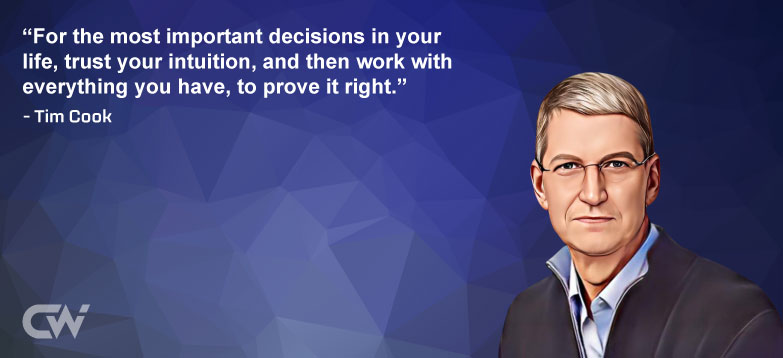 "For the most important decisions in your life, trust your intuition, and then work with everything you have, to prove it right."

– Tim Cook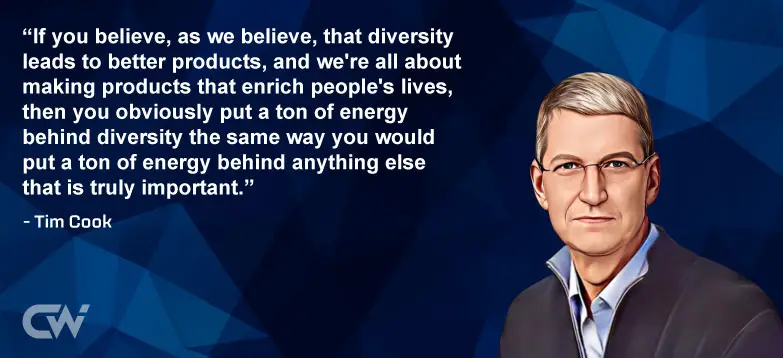 "If you believe, as we believe, that diversity leads to better products, and we're all about making products that enrich people's lives, then you obviously put a ton of energy behind diversity the same way you would put a ton of energy behind anything else that is truly important."

– Tim Cook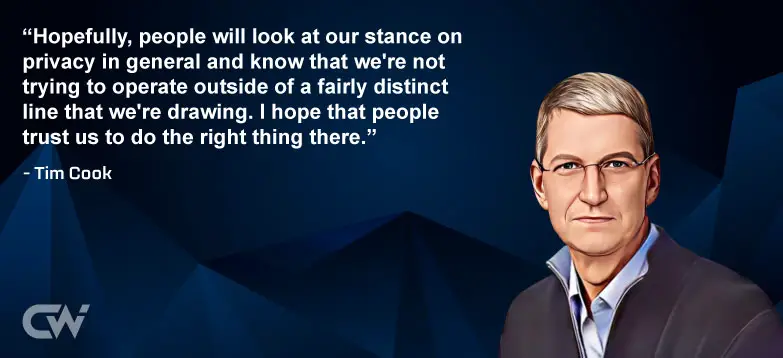 "Hopefully, people will look at our stance on privacy in general and know that we're not trying to operate outside of a fairly distinct line that we're drawing. I hope that people trust us to do the right thing there."

– Tim Cook
Keys Life Lessons from Tim Cook
We now know everything about Tim Cook and his net worth. Let's look at some of his lessons.
1. Work with Integrity
Cook is a big proponent of ethical business practices. He has often been quoted saying that he wants to do things "the right way" even when it's not easy or cheap. This dedication to integrity is a valuable lesson in both personal and professional life.
2. Be Courageous
Cook is openly gay and came out in a public letter in 2014, making him the first Fortune 500 company CEO to do so. His courage and openness about his sexual orientation, despite the potential backlash, is a lesson in bravery and authenticity.
3. Stay Humble
Despite his high-profile position, Cook has always maintained a low-profile lifestyle and stayed grounded. His humility, despite his success, is a lesson for all.
4. Take Responsibility
Under Cook's leadership, Apple has taken steps to address environmental issues, pushing for renewable energy usage and recycling programs. This demonstrates a broader lesson about taking responsibility for our actions and their impacts on the world around us.
5. Invest in the Future
Cook has emphasized the importance of investing in the future through innovation and education. Under his leadership, Apple has made significant strides in the fields of technology and sustainability, showing that long-term planning and future-focused thinking can lead to great success.
Frequently Asked Questions
Who is Tim Cook?
Tim Cook is the Chief Executive Officer of Apple Inc., one of the world's most valuable technology companies. He took over the position from Apple's co-founder Steve Jobs in August 2011.
Does Tim Cook own Apple?
Tim Cook Does Not Own Apple Company but owns 837,374 shares of Apple stock, representing 0.02% of all outstanding shares.
What are some notable achievements of Tim Cook as Apple's CEO?

Under Cook's leadership, Apple has launched several new product categories like Apple Watch, AirPods, and services like Apple Music, Apple Pay, Apple TV+, and more.
What is Tim Cook's net worth?
Tim Cook net worth is US$ 1.8 Billion as of 2023.
Summary
Tim Cook, born on November 1, 1960, in Alabama, USA, is a renowned business executive best known for his role as the Chief Executive Officer of Apple Inc. A graduate of Auburn University and Duke University's Fuqua School of Business, Cook began his career at IBM before moving on to Intelligent Electronics and Compaq. He joined Apple in 1998 as Senior Vice President of Worldwide Operations, where he drastically improved the company's supply chain efficiency.
Following the ill-health of Apple's co-founder and then CEO, Steve Jobs, Cook was named Chief Operating Officer in 2007 and took over most of Jobs' responsibilities. He became the CEO of Apple Inc. in 2011 after the resignation of Jobs.
Since his ascension, Cook has successfully guided Apple through numerous product launches and has made significant strides in promoting environmental sustainability, digital privacy, and equality. He is also known as the first CEO of a Fortune 500 company to publicly come out as gay, marking a significant moment in the recognition of LGBT rights in the corporate world.
---
---