What is Oprah Winfrey Net Worth?
Oprah Winfrey net worth is US$ 2.5 Billion as of January 2023.
| | |
| --- | --- |
| Net Worth | US$ 2.5 Billion |
| Also known as | Oprah Gail Winfrey |
| Born | January 29, 1954 (69 Years) |
| Gender | Female |
| Height | 5' 6" |
| Horoscope | Aquarius |
| Country of Origin | Kosciusko, Mississippi, The US |
| Source of Wealth | Media Proprietor, Actor, Presenter, Businessperson, Television & Film Producer, Journalist, Philanthropist, Voice Actor |
| Marital Status | Unmarried |
| Partner | Stedman Graham |
| Famous For | A syndicated daily talk show – The Oprah Winfrey Show |
Biography
Oprah Winfrey is a groundbreaking American television host, actress, producer, philanthropist, and media mogul. Rising from a challenging childhood marked by poverty and abuse, she became the host of the highly influential "The Oprah Winfrey Show," which aired from 1986 to 2011.
The program, renowned for its transformative and candid discussions, secured her status as one of the most influential women in media. Winfrey's entrepreneurial prowess extended beyond television; she founded Harpo Productions and the OWN network and also became an influential book critic, actress, and magazine publisher. Her significant philanthropic efforts, such as the Oprah Winfrey Leadership Academy for Girls in South Africa, have made lasting impacts on education and opportunity for the underserved.
As a pioneering African American woman in the entertainment industry, Oprah's legacy is marked by her commitment to upliftment, inspiration, and creating platforms for meaningful conversations.
Timeline
Began working in radio while still in high school.
Became the youngest and first black female news anchor at Nashville's WLAC-TV.
Moved to Baltimore to co-anchor the six o'clock news at WJZ-TV. Later, she co-hosted the local talk show "People Are Talking."
Relocated to Chicago to host WLS-TV's low-rated half-hour morning talk show, "AM Chicago."
Under her leadership, "AM Chicago" became the highest-rated talk show in Chicago.
The show was renamed "The Oprah Winfrey Show." It was expanded to a full hour and broadcast nationally.

Oprah created Harpo Productions, her multimedia production company.
Oprah won her first Daytime Emmy Award for Best Talk/Service Show Host.
"The Oprah Winfrey Show" introduced the book club segment, which became influential in the book industry. Books she recommended often became bestsellers.
Interviewed Michael Jackson, which became the fourth most-watched event in American television history at the time.
Produced and starred in the film adaptation of Toni Morrison's "Beloved."
Launched "O, The Oprah Magazine."
Began endorsing Barack Obama for president, which some believe had a significant impact on his election.
"The Oprah Winfrey Show" aired its last episode, ending its 25-year run.

Launched OWN (Oprah Winfrey Network), a multi-platform media company.
Received the Presidential Medal of Freedom from President Barack Obama.
Delivered a powerful speech at the Golden Globe Awards, leading to speculation about a possible run for president.
Launched "Oprah's Book Club" on Apple TV+.
Conducted a high-profile interview with Prince Harry and Meghan Markle about their departure from royal duties.
Early Life
Oprah Winfrey was born on January 29, 1954, in the rural town of Kosciusko, Mississippi, to a teenage single mother. Her early years were marked by poverty, frequent relocation, and traumatic experiences, including sexual abuse. Living initially with her maternal grandmother, Oprah learned to read at an early age and found solace in the church, often impressing the congregation with her recitations.
As she grew older, she moved to Milwaukee to live with her mother, and later, to Nashville to live with her father, Vernon Winfrey. It was under her father's strict but supportive care that Oprah's life began to stabilize. He emphasized the importance of education, leading her to excel in school and win a scholarship to Tennessee State University. These foundational years, though filled with adversity, helped shape Oprah's resilience, determination, and deep-seated passion for self-improvement and empowerment.
Career
Oprah Winfrey's meteoric rise in the world of media began in the realm of radio and local television. At the age of 19, while still studying at Tennessee State University, she became the first African American and youngest female anchor for Nashville's WLAC-TV. Her distinctive blend of empathetic interviewing and natural charisma soon landed her a co-anchor position at Baltimore's WJZ-TV. It was here that she co-hosted "People Are Talking," her first taste of the talk show format.
In 1983, Oprah relocated to Chicago to revamp a low-rated morning talk show on WLS-TV. This show was eventually renamed "The Oprah Winfrey Show" and went national in 1986. It quickly distinguished itself from other talk shows due to Oprah's profound emphasis on self-improvement, spirituality, and personal experiences, transforming the genre and creating a space for deeper, more authentic conversations. As the show's popularity soared, Winfrey established Harpo Productions, becoming the third woman in the entertainment industry to own her own studio.
The Oprah Winfrey Show aired until 2011, setting unparalleled standards in daytime television. Beyond her eponymous show, Oprah's career expanded to include film roles, such as her Oscar-nominated performance in "The Color Purple," and significant ventures like the founding of the OWN network, O, The Oprah Magazine, and her influential Book Club. This multifaceted career, marked by continual reinvention and a commitment to upliftment, solidified Oprah as one of the most influential figures in the entertainment industry.
Favorite Quotes from Oprah Winfrey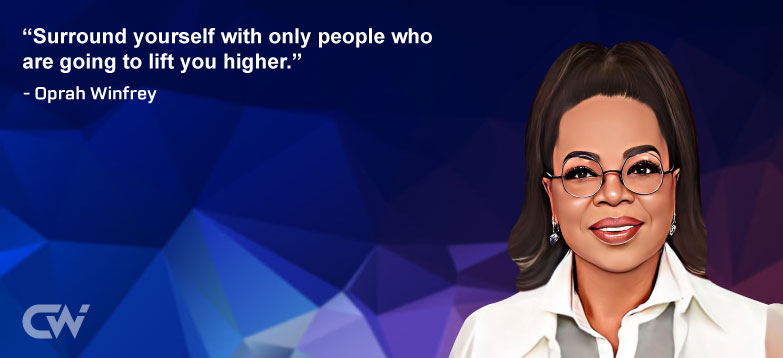 "Surround yourself with only people who are going to lift you higher."

– Oprah Winfrey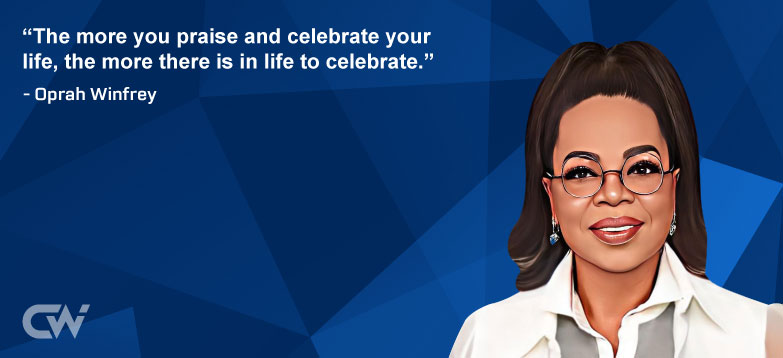 "The more you praise and celebrate your life, the more there is in life to celebrate."

– Oprah Winfrey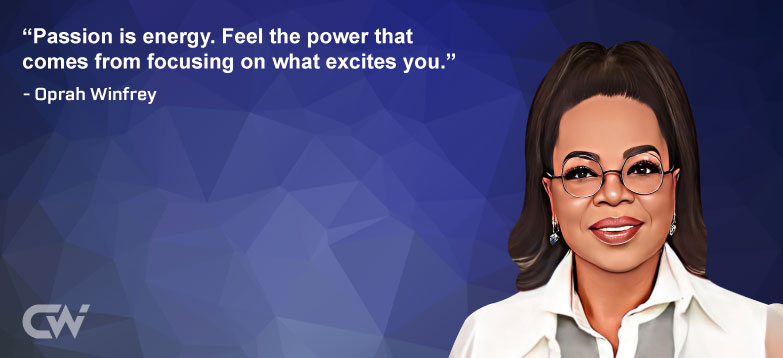 "Passion is energy. Feel the power that comes from focusing on what excites you."

– Oprah Winfrey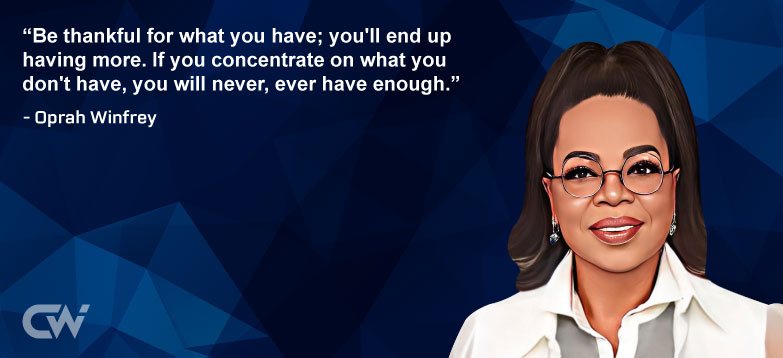 "Be thankful for what you have; you'll end up having more. If you concentrate on what you don't have, you will never, ever have enough."

– Oprah Winfrey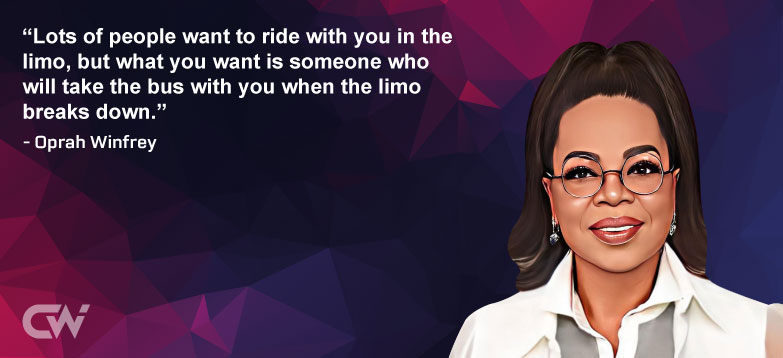 "Lots of people want to ride with you in the limo, but what you want is someone who will take the bus with you when the limo breaks down."

– Oprah Winfrey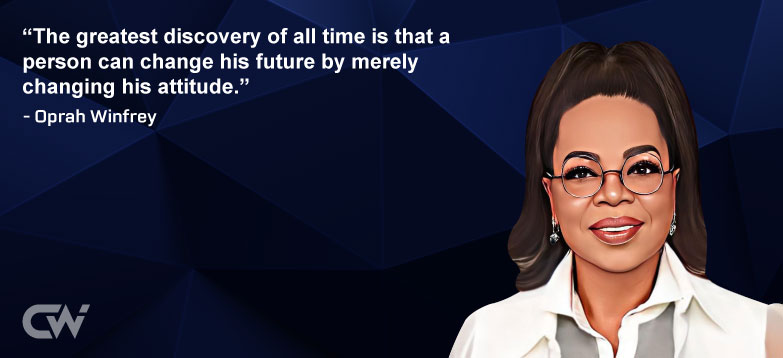 "The greatest discovery of all time is that a person can change his future by merely changing his attitude."

– Oprah Winfrey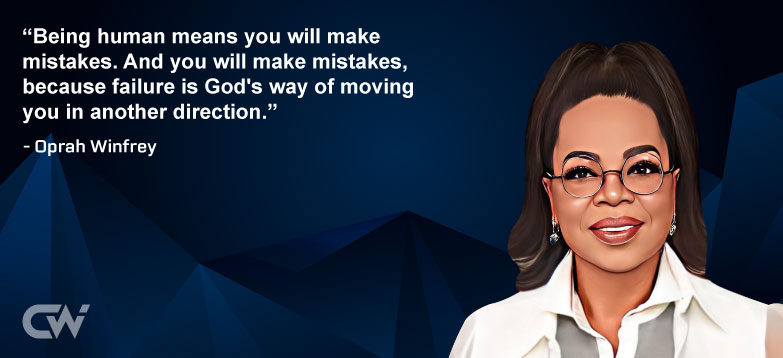 "Being human means you will make mistakes. And you will make mistakes because failure is God's way of moving you in another direction."

– Oprah Winfrey
Life Lessons from Oprah Winfrey
The Power of Self-Belief
Oprah often emphasizes the importance of believing in oneself. Regardless of the challenges and setbacks she faced, she kept faith in her ability to succeed.
Your Thoughts Shape Your Reality
She is a strong advocate of the idea that the energy you put out into the world, and the thoughts you harbor, can manifest in your life. Positive thinking can lead to positive outcomes.
The Power of Saying No
Oprah discusses the importance of setting boundaries and understanding when to say no. It's about respecting oneself and one's time.
Lessons Come from Everywhere
From interviewing thousands of people, Oprah has said that everyone has a story and that there's something to learn from everyone you meet.
Everything Happens for a Reason
Oprah often mentions that there's a bigger picture and reason behind every event in our lives. This perspective helps in finding lessons and growth in every situation.
Embrace Failure
Oprah has spoken about her failures and challenges, highlighting that they are stepping stones to success. She believes that every setback is a setup for a comeback.
Frequently Asked Questions
What is Oprah Winfrey most famous for?
Oprah Winfrey is best known as host of The Oprah Winfrey Show, which aired for 25 seasons, from 1986 to 2011.
What is "The Oprah Winfrey Show"?
"The Oprah Winfrey Show" was a nationally syndicated talk show hosted by Oprah. It aired from 1986 to 2011 and was the highest-rated talk show in American television history.
Has Oprah acted in movies?
Yes, Oprah has acted in several movies. Some notable ones include "The Color Purple," "Beloved," and "The Butler."
What are Oprah's other ventures?
Beyond her talk show, Oprah has been involved in various ventures, including the launch of the television network OWN (Oprah Winfrey Network), O, The Oprah Magazine, and her participation in the "Oprah's Book Club" segment which significantly boosts book sales for the selected titles.
Is Oprah married?
Oprah has never been married. However, she has been in a long-term relationship with Stedman Graham since the 1980s.
Has Oprah won any awards?
Oprah has won numerous awards, including multiple Daytime Emmy Awards, a Golden Globe, and the Presidential Medal of Freedom, which was awarded to her by President Barack Obama in 2013.
Summary
Oprah Winfrey, born on January 29, 1954, in Kosciusko, Mississippi, is a groundbreaking media mogul, television host, actress, producer, and philanthropist. Rising from humble beginnings and overcoming numerous challenges, Oprah became the host of "The Oprah Winfrey Show," which ran for 25 years and became the highest-rated talk show in America. Her empathetic style and groundbreaking topics transformed daytime television.
As the first black female billionaire, she expanded her influence beyond television with ventures like the OWN network, O Magazine, and an influential book club. Throughout her career, she has been an advocate for education, health, and humanitarian causes, using her platform to make significant positive impacts on numerous lives around the world.
---
---