What is John Larroquette Net Worth?
John Larroquette Net Worth is US$ 28 Million as of 2022.
| | |
| --- | --- |
| Net Worth | US$ 28 Million |
| Born: | November 25, 1947 (76 Years) |
| Birth Name | John Bernard Larroquette |
| Gender | Male |
| Height | 6′ 4″ |
| Horoscope | Sagittarius |
| Country of Origin | New Orleans, Louisiana, The US |
| Source of Wealth | Actor, Producer |
| Marital Status | Married |
| Spouse | Elizabeth Ann Cookson (m. 1975 – Present), Bertie Good (m. 1969 – Divorced) |
| Children | Lisa Katherina (Daughter), Benjamin Lawrence Larroquette (Son), and Jonathan Preston Larroquette (Son) |
| Famous For | Baa Baa Black Sheep (1976–1978), Night Court (1984–1992), The John Larroquette Show (1993–1996) |
Biography
John Larroquette net worth was estimated at US$ 28 Million.
John Larroquette is a producer and actor known for "Stripes" (1981), "The Librarians" (2014), and "Night Court" (1984). New Orleans Saints is his favorite football team. He loves the chocolate of ScharffenBerger's gourmet. He was first married to Bertie Good in 1969 and got divorced. On 4 July 1975, John married Elizabeth Larroquette. They are blessed with three children. He made a record for earning four consecutive Emmy Awards. In the 1970s, John admitted that he was recovering from alcoholism. He developed his speech pattern so that he could work as DJ on the radio.
Early Life
John was born on November 25, 1947, in New Orleans, Louisiana, USA. His mother, Berthalla Oramous, was a store clerk. John Edgar Larroquette, his father, was in the US Navy. In 1895, John's paternal grandfather named, John Larroquette Sr., relocated to the US. John grew up in New Orleans, near French Quarter. He used to play saxophone and clarinet from his childhood. In high school, John and his friends arranged a band called "The N.U.D.L.E.S." During Francis Nicholls High School, he began his career in acting. In 1973, he worked as DJ on the radio, then moved to Hollywood.  
Career
John's first role in Hollywood was the voiceover for 'The Texas Chain Saw Massacre' in 1974. He did this as a favor for Tobe Hooper, the film's director. His first role was in the 1970s Baa Baa Black Sheep. In this film, he played 2nd, Lt. Bob Anderson, in "World War II." In 1975 he appeared in "Sanford and Son" TV series. In 1981, during the recording of Stripes, John's nose was hurt in an accident. John played the role of Dan Fielding on the TV comedy "Night Court." He won Emmy Awards for four consecutive years 1985, 1986, 1987, and 1988. He made a record of awards. John and Reo organized a show on John's personal life, mainly alcoholism.
"The John Larroquette Show" was released on 2 September 1993. The show ranked #97 for the first season. NBC threatened to cancellation of the show. The series never received an official release from Warner Bros. In 1998, he had a guest appearance on three episodes of the drama "The Practice." He played the role of Joey Heric, a wisecracking, wealthy psychopath having a habit of stabbing his gay lovers. He won the fifth Emmy Award for this role. In 2002, he repeated the role for one episode. Again he received a nomination for Emmy Award. He also played in an episode of "The West Wing's" TV series.
In 2003, John renewed his narration of "The Texas Chainsaw Massacre." In 2004, he played a role in the series "McBride of Hallmark Mysteries" TV films. In 2007, John was cast as Carl Sack in "Boston Legal." He did voice narration as Bob Weber in "Phineas." In 2014, John was in "The Librarians" in the role of Jenkins. In 2019, he played a recurring role in the series as Jacob Jay Reece in "Blood & Treasure." He won the Drama Desk Award and Tony Award for Best Actor. John Larroquette has a net worth of US$ 28 million.
Highlights
Here are some of the best highlights of John Larroquette's career:
The John Larroquette (1993-1996)
Blind Date (1987)
The librarians (2014-2018)
Baa Baa Black Sheep (1976-1978)
Favorite Quotes from John Larroquette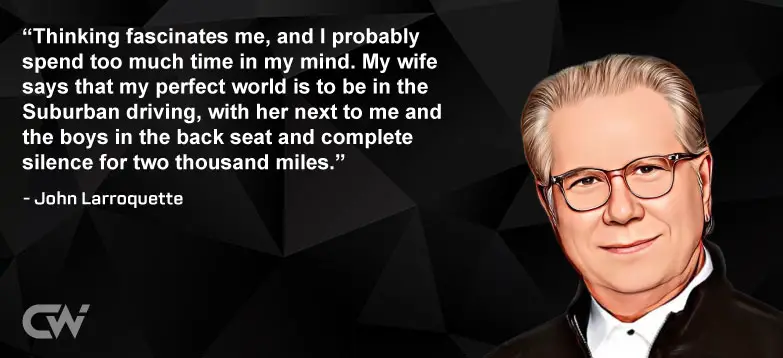 "Thinking fascinates me, and I probably spend too much time in my mind. My wife says that my perfect world is to be in the Suburban driving, with her next to me and the boys in the back seat and complete silence for two thousand miles."

– John Larroquette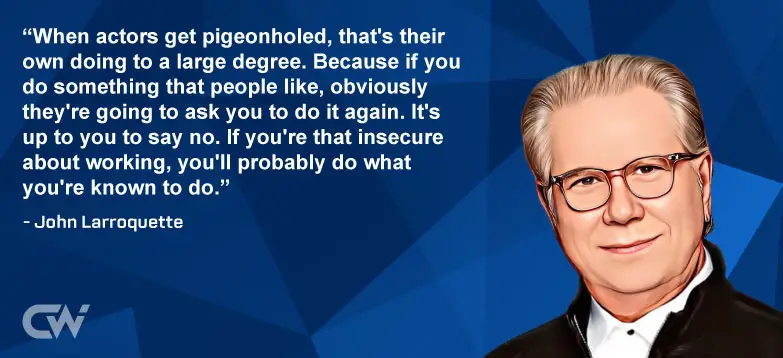 "When actors get pigeonholed, that's their own doing to a large degree. Because if you do something that people like, obviously they're going to ask you to do it again. It's up to you to say no. If you're that insecure about working, you'll probably do what you're known to do." 

– John Larroquette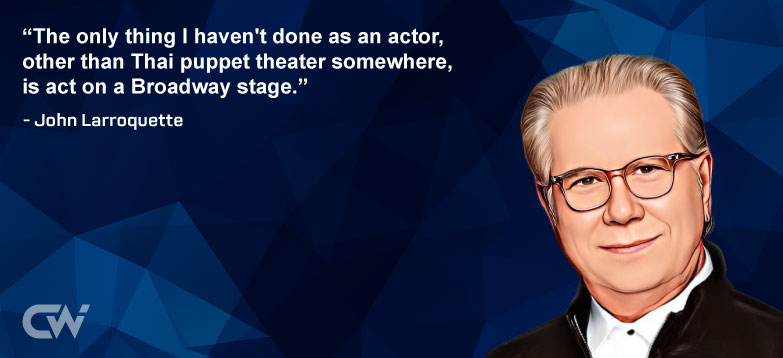 "The only thing I haven't done as an actor, other than Thai puppet theater somewhere, is act on a Broadway stage."

– John Larroquette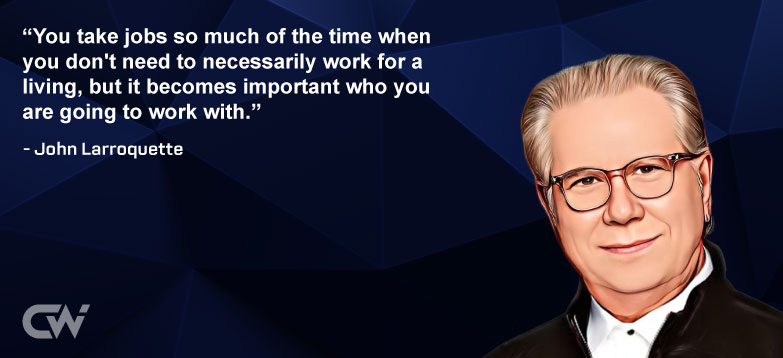 "You take jobs so much of the time when you don't need to necessarily work for a living, but it becomes important who you are going to work with."

– John Larroquette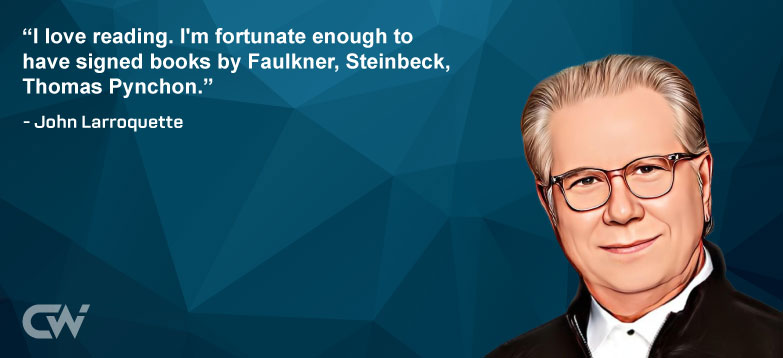 "I love reading. I'm fortunate enough to have signed books by Faulkner, Steinbeck, Thomas Pynchon."

– John Larroquette
Frequently Asked Questions
What nationality is John Larroquette?
John Larroquette is American by nationality.
What shows did John Larroquette star in?
John Larroquette starred in "Night Court," "The 10th Kingdom," "Wedding Daze," and many more.
How many seasons was "The John Larroquette Show" on?
"The John Larroquette Show" was for four seasons.
Who played Lola on "The John Larroquette Show"?
Cheryl Tiegs played Lola in the show.
Summary
John was born on November 25, 1947, in New Orleans, Louisiana, USA. He is among the top 10 highest-paid actors in 2022 in "People with Money." John is the winner of the Primetime Emmy Awards. He was also nominated for Saturn Award, the American Comedy Award, Screen Actors Guild Award, and the Q Award. In 2009, John made his musical debut in "How the Grinch Stole Christmas!" as Old Max.
What do you think about John Larroquette net worth? Leave a comment below.
---
---