What is Jet Li Net Worth?
Jet Li Net Worth is US$ 265 Million as of 2022
Net Worth
 USD 265 Million
Born:
April 26, 1963 (60 Years)
Full Name
Li Lian-Jie
Gender
Male
Height
5′ 5"
Weight
145.5 lbs (66 Kg)
Horoscope
Taurus
Country of Origin
China
Source of Wealth
Actor, Film Producer
Marital Status
Married (1990)
Spouse (s)
Huang Qiuyan (Married, 1987; Divorced, 1990)
Nina Li Chi (Married, 1999)
Children
Two Daughters, Si and Taimi (with Huang Qiuyan) Two Daughters, Jane and Jada (with Nina Li Chi)
Famous For
The Expendables, The Mummy: Tomb of the Dragon Emperor, Once Upon a Time in China, Shaolin Temple.
Biography
Jet Li is a trained Wushu artist and was trained by acclaimed Wushu master Wu Bin. He won his first Wushu championship with his Beijing Wushu team and then retired from Wushu at the age of 18. Later he started his acting career with his first movie Shaolin Temple in 1982. Since then, Jet Li has been featured in several national and international films; with his first English movie Lethal Weapon 4, he stepped into Hollywood. Jet Li has also worked in French movies such as Le Baiser Mortel du Dragon (Kiss of the Dragon, English name), and Unleashed (Danny the Dog, French name).
Jet Li got this after his first movie as people thought his real name was hard to pronounce, and associated his name with the airplane's take-off. Li has worked with several Hollywood stars such as Jason Statham, Sylvester Stallone, Jackie Chan, and Aaliyah Dana Haughton. Jet Li has also produced several movies besides being a martial artist and actor. He is also known for his Philanthropy work.
Timeline
Voice the character of Emperor of China for live action Disney movie Mulan.
Li starred in Expandables 3 for the third time.
Co-produced and starred in the movie Tai Chi as Tai Chi Master Yang Luchan to promote Tai Chi.
Launched Taiji Zen, along with Alibaba founder Jack Ma, a combination of Taijiquan and Meditation martial art.
Player the character of Dragon Emperor in The Mummy: Tomb of the Dragon Emperor.
Started in English movie Unleashed (French: Danny the Dog).
Debuted in English movies with Lethal Weapon 4, which also was his first role in negative character.
Co-produced and starred in Fist of Legend a remake of Bruce Lee's movie Fist of Fury.
Started working on 3 film series of Once Upon a Time in China.
First debuted in movies with Shaolin Temple.
Retired from Wushu due to knee injury.
National all-round champion for Wushu.
Early Life
Li Lian-Jie was born on April 26, 1963, in Beijing, China. Li is the youngest of four children (two boys and 2 girls). His father passed away when he was two years old and his family then lived in extreme difficulties. Li when 8, used to practice Wushu in a summer school course when his talent was recognized. After this, he attended a non-sparring Wushu event, leading to admission to the Beijing Wushu team, which did a martial art display during the All China Games. Recognized Wushu masters, Wu Bin and Li Junfeng put extra effort into further developing the talent of Li, Wu Bin provided food to Li's family as well. Young Li went on to compete with adults and was the National all-around champion from 1975-1979.
Li along with his Chinese National Wushu Team, went to the United States to display a performance for then-President Richard Nixon, on which Nixon asked him to be his personal bodyguard. By the age of 18, Li retired from professional Wushu owing to a knee injury but continued his passion for Wushu as an assistant coach for the Beijing Wushu team. Li has mastered several styles and weapons of Wushu such as Chángquán (Northern Longfist Style) and Fānziquán (Tumbling Fist) as well as Sanjiegun (Three Section Staff), Gùn, Dao (Broadsword), and Jian (Straight Sword). Baguazhang (Eight Trigram Palm), Taijiquan (Supreme Ultimate Fist), Xing Yi Quan (Shape Intent Fist), Zui Quan (Drunken Fist), Ying Zhao Quan (Eagle Claw Fist) and Tanglangquan (Praying Mantis Fist) are the styles studied by Li apart from Wushu.
Career
Li's fame from Wushu helped him grow as a martial art actor in China. He began his acting career in China, then moved to Hong Kong. In 1982, he acquired his screen name as a publicity company in the Philippines though his actual name was too difficult to pronounce. He made his acting debut in 1982 with Shaolin Temple, the movie made more than US $ 85 million at the Chinese box office creating a record. It is estimated that the movie sold around 500 million tickets in China. Kids from Shaolin (1984) a sequel to Shaolin Temple is also estimated to have sold around 490 million tickets across China making it the highest-grossing film that year. Thus, motivating the producers to make one more movie in this series.
Apart from the Shaolin Temple series here are a few mentions of Jet Li's acclaimed Chinese films
Once Upon a Time in China
Fist of Legend
Fong Sai Yuk
High Risk
The Sorcerer and the White Snake
Flying Swords of Dragon Gate
Li made his international debut in 1998, with Lethal Weapon 4, this was his first movie where he portrayed the role of a villain. This movie became a box office hit and Li's character of Chinese mafia hitman Wah Sing Ku was praised, even though he spoke very little English. He signed this movie after a promise from the producer Joel Silver, that in the next film, "Romeo Must Die" Li will be playing the lead role.  Li also turned down several roles due various reasons. Jet Li teamed up with two more stars in 2001 Jason Statham and Bridget Fonda for The One and Kiss of the Dragon.
Some of the noteworthy mentions of Li's English movies are:
Cradle 2 Grave
Unleashed
Fearless
War
Warlords
The Forbidden Kingdom
The Expandable Series
The Mummy: Tomb of the Dragon Emperor
Apart from being an actor and film producer, Jet Li is also a Philanthropist, He has been "The Red Cross Society of China's" Philanthropic Ambassador since 2006 and also donated US $ 62,500 from his movie Fearless earning to the Red Cross' psychological sunshine project, which is associated with improvement of mental health. After a near-death experience while on vacation with his family in the Maldives in 2004, Li formed his own non-profit organization in 2007, named The One.
The One Foundation aids international disaster relief efforts in partnership with the Red Cross as well as works towards other efforts such as mental health awareness and suicide prevention. Since the formation of The One Foundation, Li has been associated with 7 disaster relief efforts across the world namely, the Sichuan earthquake in 2008 and Typhoon Morakot in Taiwan, and the Lushan earthquake in Ya'an, Sichuan 2013. In 2010, Li was appointed by Red Cross as the first Good Will Ambassador. Apart from that, he has also partnered with Jack Ma, to lunch a program called Taiji Zen, which is a combination of martial art of Taijiquan (a.k.a. T'ai Chi Chuan) with practices such as meditation.  
Jet Li Net Worth Growth
| | |
| --- | --- |
| Net Worth in 2022 | US$ 265 Million |
| Net Worth in 2021 | US$ 250 Million |
| Net Worth in 2020 | US$ 205 Million |
| Net Worth in 2019 | US$ 180 Million |
| Net Worth in 2018 | US$ 162 Million |
Jet Li's net worth has doubled in digits since 2018, with the average of the last five years being above 13%. With the highest growth being 17.1% in 2021. Jet Li's net worth grew owing to his successful production over the past years. Despite the fact that Li belonged to a poor family, he has made a successful career in movies and film production.  
Highlights
Here are some of the best highlights of Jet Li's career:
Shaolin Temple
The Expendables
Lethal Weapon 4
Hero
Romeo Must Die
Kiss of the Dragon
Brand Endorsements
Jet Li has done endorsements for several brands across the world Luxury Watch brand Hublot, which he also promoted through his movies. Apart from this, he has also been the brand ambassador of Adidas, San Miguel, AUX Group, and Far East Holding International Limited, among others.
Favorite Quotes from Jet Li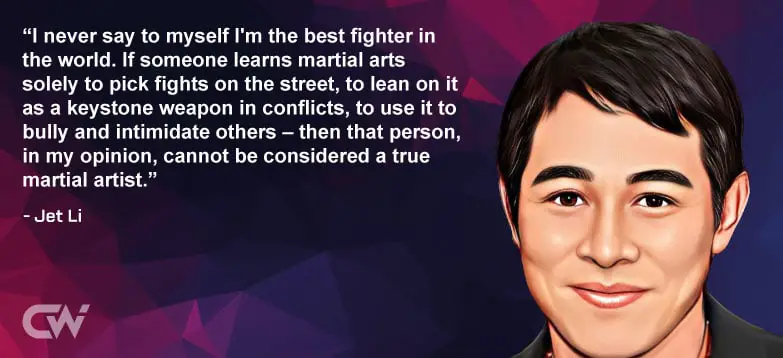 "I never say to myself I'm the best fighter in the world. If someone learns martial arts solely to pick fights on the street, to lean on it as a keystone weapon in conflicts, to use it to bully and intimidate others – then that person, in my opinion, cannot be considered a true martial artist." 

– Jet Li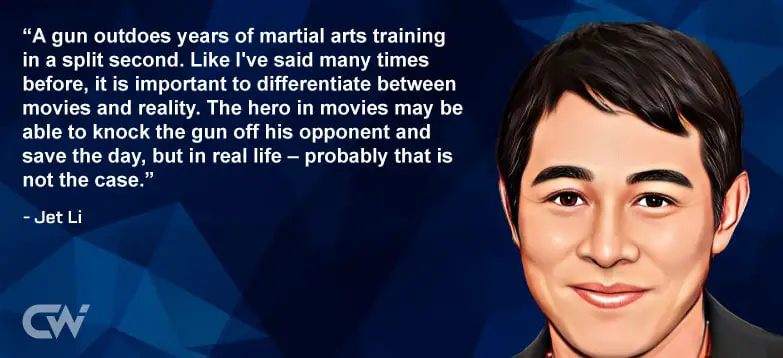 "A gun outdoes years of martial arts training in a split second. Like I've said many times before, it is important to differentiate between movies and reality. The hero in movies may be able to knock the gun off his opponent and save the day, but in real life – probably that is not the case" 

– Jet Li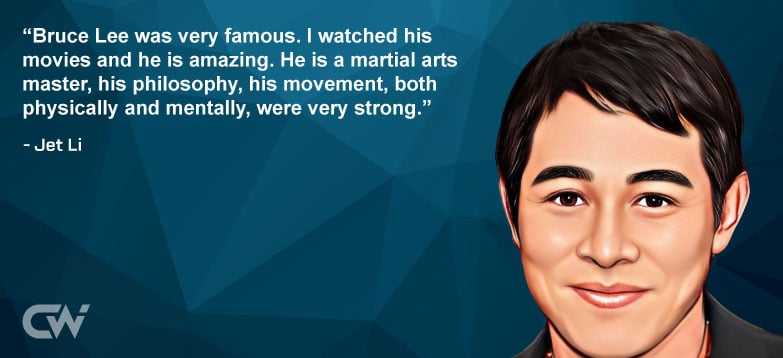 "Bruce Lee was very famous. I watched his movies and he is amazing. He is a martial arts master, his philosophy, his movement, both physically and mentally, were very strong"

– Jet Li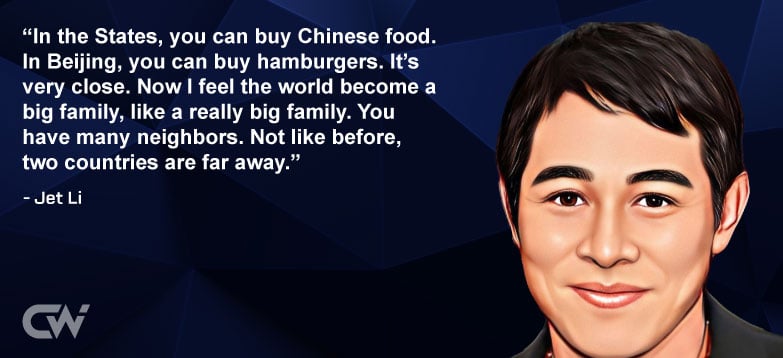 "In the States, you can buy Chinese food. In Beijing, you can buy hamburgers. It's very close. Now I feel the world become a big family, like a really big family. You have many neighbors. Not like before, two countries are far away."

– Jet Li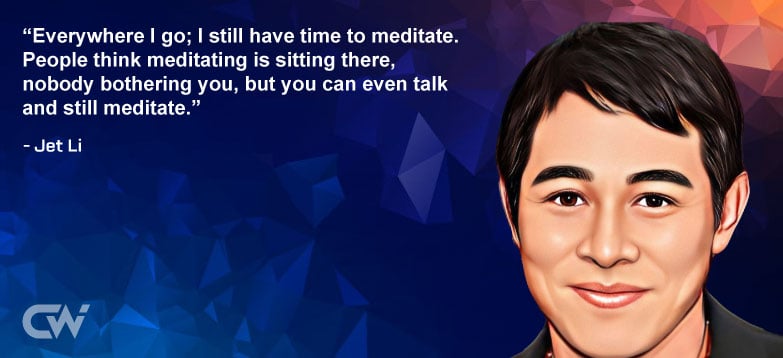 " Everywhere I go; I still have time to meditate. People think meditating is sitting there, nobody bothering you, but you can even talk and still meditate."

– Jet Li
Keys Life Lessons from Jet Li
We now know everything about Jet Li's net worth. Let's look at some of his lessons.
1. Humility
One's best defense against any problem in life is Humility
2. Happiness
You are the source of your own happiness.
3. Hard work and Truthfulness
Never be shy from hard work and always remain true to your work.
Frequently Asked Questions
How much money does Jet Li have?
Jet Li's net worth was estimated at $265 million as of September 2022.
Is Jet Li a Citizen of Singapore?
Jet Li gave up his Chinese citizenship in 2003 and went on the have US citizenship till 2009, after which he took citizenship of Singapore to give his two daughters better education, and is now a citizen of Singapore.
Which martial art form did Jet Li practice?
Jet Li practiced Wushu since he was 8, and gave up professional Wushu by the age of 18 due to a knee injury.
Summary
Chinese-born Singaporean Actor Jet Li has faced several hardships throughout his life, however, he kept on improving his skills and now we know where he is. The martial artist turned actor turned film producer, and now a philanthropist, Li is always in the limelight in one or the other way.
Despite earning so much, Li has dedicated his life to helping others through various ways such as charity, martial art training, etc.  
What do you think about Jet Li net worth? Leave a comment below.
---
---