What is Jocko Willink Net Worth?
Jocko Willink Net Worth is US$ 6 Million as of 2022.
| | |
| --- | --- |
| Net Worth | US$ 6 Million |
| Born: | September 8, 1971 (52 Years) |
| Gender | Male |
| Height | 5' 10" |
| Birth place | Torrington, Connecticut, the United State |
| Horoscope | Virgo |
| Country of Origin | American |
| Source of Wealth | Author, Podcaster, Military Career |
| Marital Status | Married |
| Spouses | Helen Willink |
| Famous For | Highly Decorated Navy Seal officer & Author of The New York times' Bestseller Extreme Ownership: How US Navy Seals Lead & Win and Coaching Skills for Leadership. |
Biography
John Gretton Willink is commonly known as 'Jocko Willink,' who is retired United States Navy SEAL Officer, American author of adult and children's books, podcaster, and co-founder of leadership training and consulting firm. He is author of famous book 'Extreme Ownership: How to U.S. Navy SEALS Lead &Win,' and co-founder of Echelon Front consulting firm, where Jocko is a leadership instructor and coach. Jocko is most famous for motivational speaker. Jocko Willink's earned silver star, the Bronze Star, and many other awards during his career.
Timeline
A SEAL master chief introduced Willink to the sport of BJJ in 1992. Willink was still new to active combat and was drawn to the master chief's grace, finesse, and brutality. He saw BJJ as a way to keep himself mentally and physically fit.
Jocko Willink ended his 20-year Navy SEAL career in October 2010 as the officer in charge of training for all West Coast SEAL Teams.
On December 22, 2015, he began a weekly podcast in which he discussed leadership, exercise, jiu-jitsu, and lessons learned as a Navy SEAL. Jocko Willink published his first book in 2015. He co-authored with Leif Babin and created a book called 'Extreme Ownership: How U.S. Navy Seals Lead and Win.'
Jocko wrote a book called 'Discipline equals freedom: Field Manual' which teaches how to overcome fear, weaknesses, and procrastination.
He wrote 'The Dichotomy of Leadership: Balancing the Challenges of Extreme Ownership to Lead and Win' which he also co-authored with Leif Babin.
He wrote two books: 'Leadership Strategy and Tactics: Field Manual' and 'The Code. The Evaluation. The Protocols: Striving to Become an Eminently Qualified Human'
Early Life
John Gretton Willink (Jocko Willink) was born in Torrington, Connecticut, the United States on 8 September 1971. He raised in New England with two siblings, where his father, John Willink, who was a school teacher. His father was a strict disciplinarian.
Jocko Willinks graduated in English from the University of San Diego in 2003. After graduation, he joined the military.
Career
In the beginning, Jocko Willink's was recruit into United State Navy Seal and he trained at the Naval Amphibious Base Coronado. In Iraq War, he was a former Navy Seal commander and he was led combat and seal operations. Willink's worked around Europe, Asia and Middle East. At the Battle of Ramadi, Jocko trained the next generation of SEAL leaders using his battle knowledge that he had earned during fighting in Operation Iraqi Freedom. Jocko is enlisted as a U.S. Navy Seal after Navy Recruit Training. Jocko Willink finished his Basic Underwater Demolition/Seal training in California. Then he served eight years on SEAL Team One and Two. He received his commission by officer candidate and was promoted to platoon commander.
In 2010, Willink retired from navy after spent twenty years in the United State Navy Seal Team. Jocko Willink earned the several awards during his career such as the Silver Star, the Bronze Star, Battle Efficiency Award and many more personal and unit awards.
As an author, Jocko Willink wrote a numerous bestselling books such as 'The Dichotomy of Leadership: Balancing the Challenges of Extreme Ownership to Lead and Win (2018),' 'Leadership Strategy and Tactics: Field Manual (2020),' 'Discipline Equals Freedom: Field Manual (2017),' and 'The code.' Jocko has authored children's books such as the 'Way of the Warrior Kid Series (2017-2019)' and 'The Dragons' in 2018. For first book promotion, Jocko appeared on the podcasts of Joe Rogan, Tim Ferries, and Sam Harris. He inspired and decided to start his podcast. Jocko Willink has a very popular podcast titled "The Jocko Podcast." His podcast covers various topics on leadership, Self-help, fitness and more.
After retired from Navy, he co-founded a leadership training and consulting company 'Echelon Front. In this firm, he is a leadership coach and instructor, where he teaches the leadership principles learned on the battlefield to helps others lead and win.
Highlights
Silver Star Award for Valor in Combat
Meritorious Service Medal
Bronze Star with V-device, which awarded for heroic achievement in combat
Navy and Marine Corps Commendation Medal for sustained acts of heroism.
Battle Efficiency Award
Humanitarian Service Medal
Global War on Terrorism Service Medal
Navy Fleet Marine Force Ribbon
Pistol and Rifle Marksmanship Medal with Expert Device
Navy Good Conduct Medal with 2 service stars.
Favorite Quotes from Jocko Willink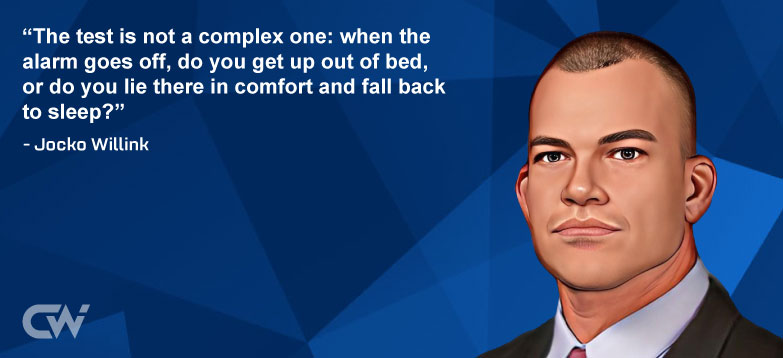 "The test is not a complex one: when the alarm goes off, do you get up out of bed, or do you lie there in comfort and fall back to sleep?"

– Jocko Willink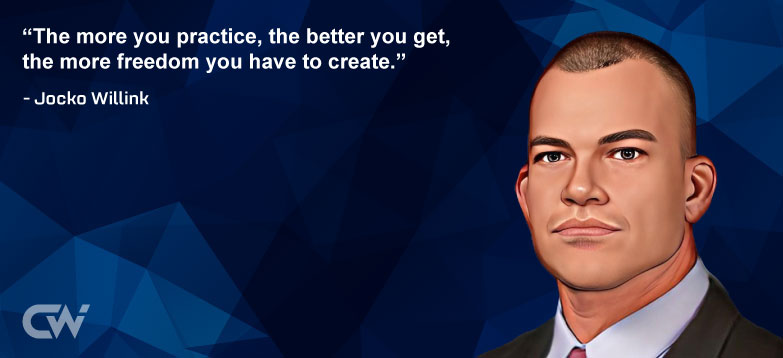 "The more you practice, the better you get, the more freedom you have to create."

– Jocko Willink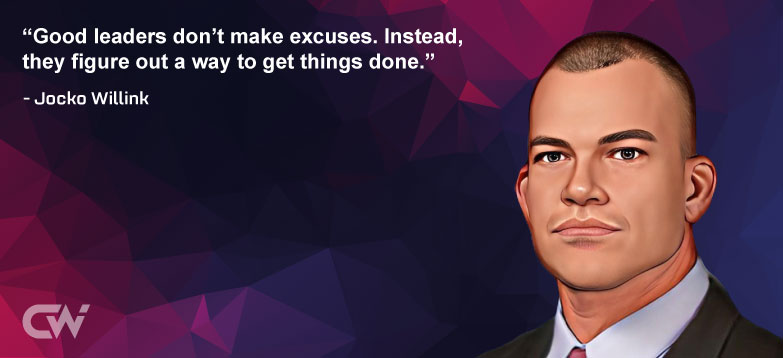 "Good leaders don't make excuses. Instead, they figure out a way to get things done."

– Jocko Willink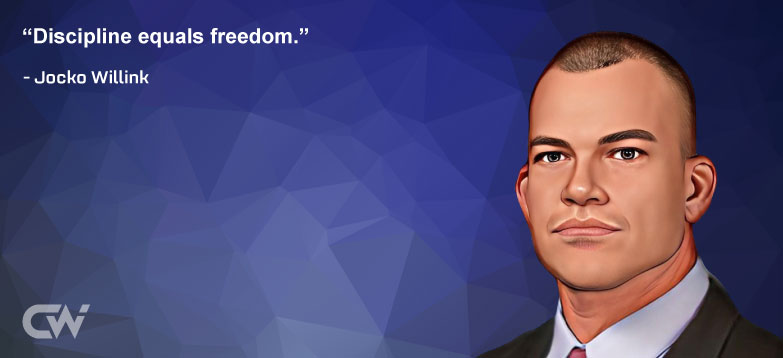 "Discipline equals freedom." 

– Jocko Willink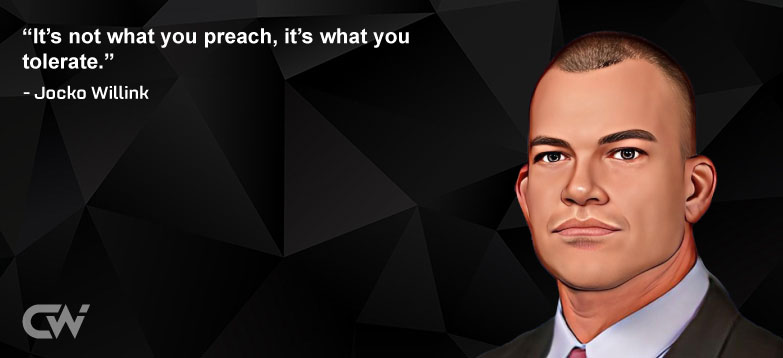 "It's not what you preach, it's what you tolerate."

– Jocko Willink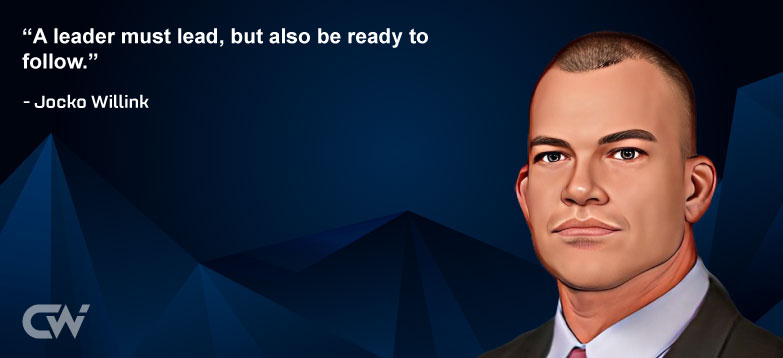 "A leader must lead, but also be ready to follow."

– Jocko Willink
Keys Life Lessons from Jocko Willink's
We now know everything about Jocko Willink's and his net worth. Let's look at some of his lessons.
Helps others lead and win
Discipline
The ego is the most disruptive of forces
Be focused
If you want to succeed, you need to set goals
Maintaining physical health is important because, without it, we won't be able to keep our minds sharp and strong.
Frequently Asked Questions
What is net worth of Jocko Willink?
As of 2022, the net worth of Jocko Willink is US$ 6 million. Jocko Willink's worth has been contributed by his military career, authorship, podcasting, and his companies which have been thriving.
Who is Jocko Willink's wife?
Jocko Willink's wife is Hellen Louise Willink. They got married in 1997.
What is the height of Jocko Willink?
Jocko Willink is 1.8 meters tall which is approximately 5 feet and 9 inches tall. 
What is Jocko Willink popular for?
Jocko Willink is famous for being a highly decorated Navy Seal Officer and being the author of the New York Times Bestseller 'Extreme Ownership: How US Navy Seals Lead and Win.'
Summary
Jocko Willink is an author, podcaster, and retired U.S. Navy Seal Officer, who received Bronze star and Silver star in Iraq war for his actions. Jocko was a commander of Navy Seal Team Three, Task Unit Bruiser between the Battle of Ramadi. He ended his 20 years' career as a Navy Seal officer in 2010. After retirement, he launched a consultancy firm. Jocko is popular podcaster and author of both adult and children's books. He is also known for his well-defined stature and he is owner of gym 'Victory MMA and Fitness.' He maintains both professional and personal life to reach his life goals effectively.
Jocko Willink net worth is estimated to be US$ 6 million.
What do you think Jocko Willink net worth? Leave a comment below.
---
---