What is Dr. Dre net worth?
Dr. Dre Net Worth is US$ 500 Million as of 2022.
| | |
| --- | --- |
| Net Worth | US$ 500 Million |
| Born | February 18, 1965 (58 Years) |
| Full Name | Andre Romelle Young |
| Also known as | Brickhard, The Mechanic |
| Gender | Male |
| Height | 6' 1" |
| Education | John C. Fremont High School |
| Country of Origin | The U.S. |
| Source of Wealth | Rapper, Record Producer, Actor, Entrepreneur, Record Executive |
| Marital Status | Divorced |
| Spouse | Nicole Plotzker ​(marriage: 1996; divorced: 2021) |
| Children | Marcel, Andre, La Tanya Danielle, Truly, Truice, Curtis, LaToya, Tyra, Ashley. |
| Famous For | No Diggity, 2001, Straight Outta Compton |
Biography
Dr. Dre's real name is Andre Romelle Young and he is an American rapper, record executive, and hip-hop producer. In 1991, along with the other three, Young founded an American record label named "Death Row Records." On March 22, 1996, Andre established "Aftermath Entertainment," an American record company. Later he co-founded "Beats Electronics," a consumer audio products manufacturer', which was later acquired by technology giant Apple Inc. in 2014 for US$3.4 billion. Dr. Dre Net Worth is US$ 500 million as of 2022.
Timeline
Won Best Rap Performance by a Duo or Group for "Crack a Bottle" and Relapse for 'Best Rap Album' at Grammy Awards
Nominated for "I Need a Doctor" at "Grammy Awards" for the category of "Best Rap/Sung Collaboration."
Won 'Hustler of the Year at "B.E.T. Hip Hop Awards."
Nominated for 'Producer of the Year at "B.E.T. Hip Hop Awards."
Nominated at "Grammy Awards," for the category of 'Best Compilation Soundtrack for Visual Media for his performance in " Straight Outta Compton."
Won 'Outstanding Variety Special (Live)' for his work in 'The Pepsi Super Bowl LVI Halftime Show' at "Primetime Emmy Awards."
Early Life
In 1976, he attended Compton's Vanguard Junior High School, but he shifted to Roosevelt Junior High School for some reason. During his school days, Dre tried for an apprenticeship program, but because of his poor grade, he was not selected at Northrop Aviation Company. He focused on his entertainment career and social life for the rest of his high school duration. Initially, he used to watch many DJs giving a live performance at a club named "Eve's After Dark." Eventually, he became a DJ there, later known as "Dr. J," a nickname of Julius Erving, a basketball player. In 1985, Dre began his career with World Class Wreckin' Cru member, an American electro group, and later became a member of the gangsta rap group, with whom he got famous.
Career
In the late 1980s, O'Shea Jackson, popularly known as Ice Cube, recorded songs for a hip-hop record label, Ruthless Records, run by a local rapper, Eazy-E. In 1986, Andrew formed the local gangsta rap group "N.W.A" along with DJ Yella, Eazy-E, and Ice Cube. Their song lyrics were ruthless and observable and grabbed the attention of mainstream America towards the "real life on the streets". Without doing a single concert tour, N.W.A's first full album, "Straight Outta Compton", achieved great popularity and success. However, the song's content was so harsh and had the power to create tensions among the citizens; the group also received a warning letter from the Federal Bureau of Investigation.
In 1989, Ice Cube left N.W.A. following some financial issues. Later in 1991, Andre also left the group when it was at its peak of popularity. In 1993, Dr. Dre released a music album, "Let Me Ride," that gained much popularity, and the album received a triple platinum certificate from "The Recording Industry Association of America (RIAA)." Also, for his performance, Dre earned the "Grammy Award for Best Rap Solo Performance." After gaining success as a rapper, Dre became a producer too. Some of his hits are "Doggystyle," Snoop Dogg's debut album, 'All Eyez on Me,' and many more.
In 1995, Dr. Dre's death row records, along with 2Pac, collaborated for "California Love," which was a great success and topped the Billboard Hot 100. Later in 1996, Dr. Dre performed in "No Diggity" by the R&B group named "Blackstreet." This album positioned top rank on Billboard Hot 100 and also won the "1997 Grammy Awards".
On November 1996, an album was released by Dr. Dre named "Dr. Dre Presents the Aftermath" and "Been There, Done That," a solo track that later became a farewell symbol for Gangsta rap. In 1998, following the suggestion given by Dr. Dre's close friend and co-founder of Interscope Records, James Lovine, he signed a white rapper Eminem. Along with Eminem, Dr. Dre produced an album, "My name is," which resulted in a massive success for both Dr. Dre & Eminem and reached the second position on Billboard 200. In 1999, Andrew released his second solo album, "2001", which became a magnificent comeback to gangsta rap. In 2002, Dr. Dre collaborated with rapper 50 Cent for a joint venture of Eminem's Shady Records and Interscope.
Young was an executive producer for 50 Cent's "Get Rich or Die Tryin," a debut studio album released in February 2003. "How We Do" become a hit from Dre's album "The Documentary," in which "The Game" rapper performed.
In 2007, Dr. Dre announced that his third album, "Detox," will be his final studio album. He released two albums in November 2010 named "Kush," along with rapper Akon and Snoop Dogg, while another album he released on February 2011, "Need a Doctor," starring singer Skylar Grey and Eminem. On August 1, 2015, Dre declared that he would release an album featuring various singers and rappers, including Xzibit, Snoop Dogg, Eminem, Kendrick Lamar, and The Game. The album's title was "Compton," inspired by "Straight Outta Compton," an N.W.A's biographical drama film.
It was announced on February 12, 2016, that Dr. Dre would be an executive producer on Apple's first scripted television series based on Dr. Dre's life, but later the show got canceled. In 2020, Dr. Dre produced Eminem's "Music To Be Murdered By." On February 2022, Dre appeared at the Super Bowl LVI halftime show with Snoop Dogg, Mary J. Blige, Eminem, Kendrick Lamar, Anderson Paak, and 50 Cent.
Highlights
No Diggity
Compton
The Chronic
100 Miles and Runnin
Favorite Quotes by Dr. Dre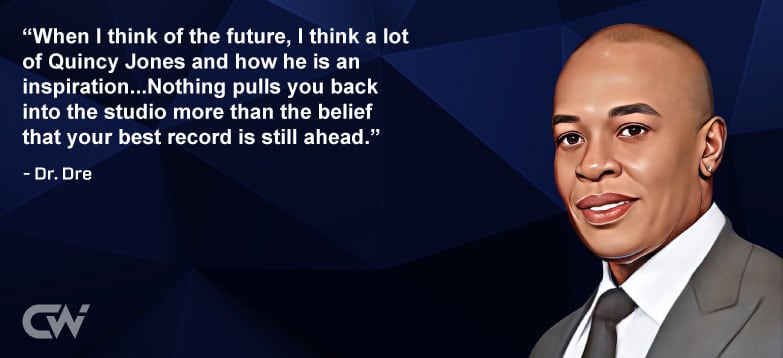 "When I think of the future, I think a lot of Quincy Jones and how he is an inspiration…Nothing pulls you back into the studio more than the belief that your best record is still ahead."

– Dr. Dre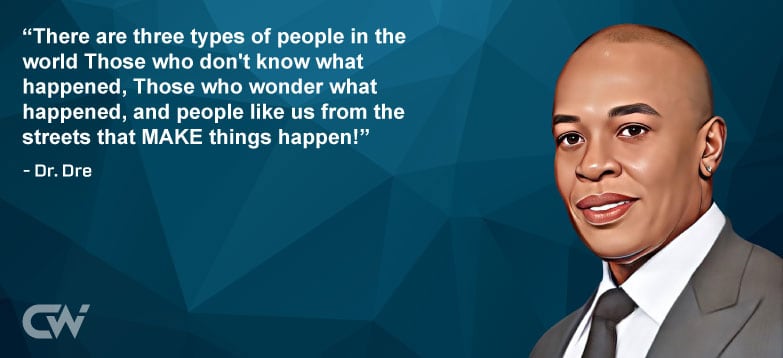 "There are three types of people in the world Those who don't know what happened, Those who wonder what happened, and people like us from the streets that MAKE things happen!"

– Dr. Dre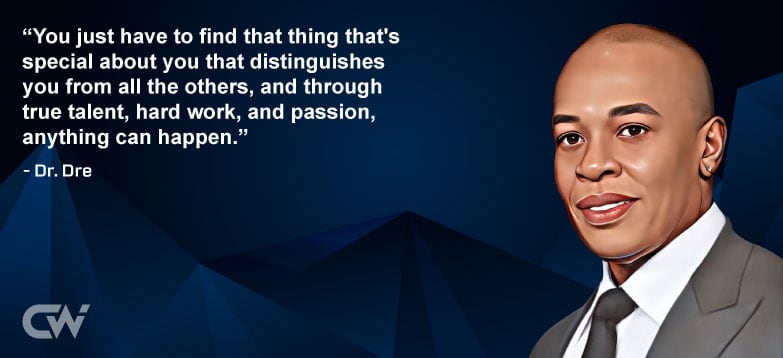 "You just have to find that thing that's special about you that distinguishes you from all the others, and through true talent, hard work, and passion, anything can happen."

– Dr. Dre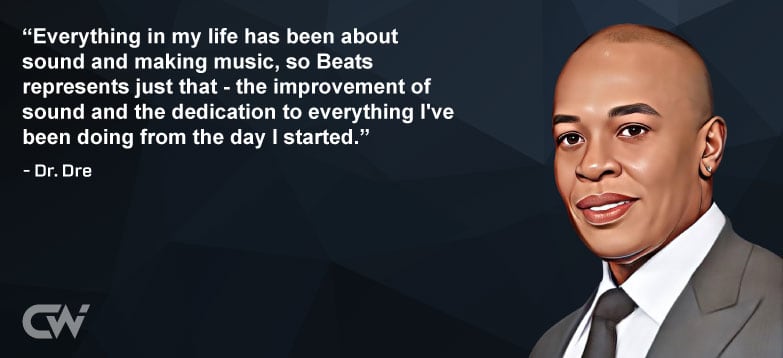 "Everything in my life has been about sound and making music, so Beats represents just that – the improvement of sound and the dedication to everything I've been doing from the day I started."

– Dr. Dre
Keys Life Lessons from Dr. Dre
Don't miss any opportunity that comes to your doorstep
Whatever thing may have happened in life, never look back to those things. Look forward, sharpen your skills, and prepare for the upcoming journey.
Frequently Asked Questions
When did the Aftermath turning point arrive?
The turning point for Aftermath came in 1998, when Dre's close friend, Jimmy Iovine, the co-founder of Interscope Records (the parent label for Aftermath), suggested that Dr. Dre sign Eminem, a white rapper from Detroit.
Which award did Andrew receive in 2022?
Andrew, popularly known as Dr. Dre, won 'Outstanding Variety Special (Live)' for his work in 'The Pepsi Super Bowl LVI Halftime Show' at "Primetime Emmy Awards."
Summary
Dr. Dre, named Andre Romelle Young, is an American rapper, record executive, and hip-hop producer. In their school days, his academic performance was poor, and he eventually left the school and focused on his entertainment career. He is a founder and co-founder of various labels and music record companies. Dre has worked with different rappers and singers in his career journey, including Xzibit, Snoop Dogg, Eminem, Kendrick Lamar, and the Game. In most of his work, he has appeared as an executive producer for various tracks and albums. Dr. Dre Net Worth is US$ 500 million as of 2022.
What do you think about Dr. Dre net worth? Leave a comment below.
---
---