What is the net worth of David Beckham?
David Beckham Net worth is US$ 450 Million as of 2022.
| | |
| --- | --- |
| Net Worth | US$ 450 Million |
| Born | May 2, 1975 (48 Years) |
| Gender | Male |
| Height | 5' 11" |
| Horoscope | Taurus   |
| Country of Origin | United Kingdom |
| Source of Wealth | Professional Football Player |
| Marital Status | Married |
| Spouse | Victoria Beckham |
| Children | Brooklyn Beckham (Son), Harper Beckham (Daughter), Romeo Beckham (Son), Cruz Beckham (Son) |
| Famous for | Footballer |
Biography
David Beckham is a well-known athlete across the world and his name itself is a worldwide commercial brand. He lead the English national football team for 9 years starting from 2000 till 2009, during his tenure he participated in three FIFA World Cup tournaments and also played midfield for different clubs, leagues, and national teams including Manchester, Madrid, England, United States, and Italy. He also won the Major League Soccer (MLS) Cup in 2011 and 2012. He became the first English player to have won league titles in four different countries namely, The US, England, France, and Spain. David Beckham Net worth is US$ 450 Million as of 2022.
Early Life
On May 2, 1975, David Robert Joseph Beckham was born in the London neighborhood of Leytonstone. Sandra Georgina and Alan Beckham are his parents. His parents were hairdressers and kitchen fitters, respectively. David was raised in London with his two sisters, Joanne (younger) and Lynne (elder). He attended Chase Lane Primary School as a kid. Later, he continued his schooling by enrolling in Chingford County High School. When he was a little boy, football held more of his attention than academics. He was so obsessed with football that he even went to a Sunday church in order to play football with his team. In 1991, he was signed into the youth training program, however, he was not selected for the England Schoolboys team primarily owing to his small appearance.
Career
David began his career as a trainee with Manchester United in 1991 and helped ManU I win FA Youth Cup in 1992. Beckham made his UEFA Champions League debut in 1994 against Galatasaray and scored a goal in a 4-0 victory. For the 1994-95 season, David was loaned to Preston North End and he returned to United in the 1995 season subsequently making his debut for the team in Premier League. He was already the star of the England national team in the 1998 FIFA World Cup in just his third season as a professional. When "Manchester United" won the Triple Crown in 1999, he was a vital member of the team.
David was a part of Manchester United's team till 2003 having won several titles such as 6 Premier League titles, 2 FA Cups, one European Cup, one Intercontinental Cup, and one FA Youth Cup in the span of 12 years.
During the summer transfer window of 2003, United and Barcelona announced that they have reached an agreement on Beckham's transfer however, he signed up with Read Madrid with a Euro 37 Million four-year contract. His stay at the club was until 2006 and in the following year, he agreed to a US$ 250 million, five-year deal with the "LA Galaxy" in 2007. He was twice on loan from "LA Galaxy" to "AC Milan" before leaving the team in 2013 to join Paris Saint-Germain. He participated in two "UEFA Euro" and three "FIFA World Cups".
He was given 115 England caps from 1996 to 2009, and Beckham served as the captain of the national team for six years. He made history by becoming the first English player to score in three straight World Cups. He only managed to score one goal in every event, and they were all free kicks. At the age of 38, he decided to retire in 2013, with 729 appearances, 129 goals, and 232 assists.
Favorite Quotes from David Beckham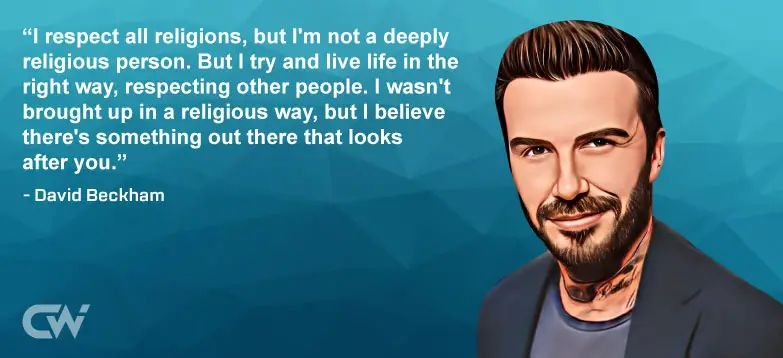 "I respect all religions, but I'm not a deeply religious person. But I try and live life in the right way, respecting other people. I wasn't brought up in a religious way, but I believe there's something out there that looks after you."

– David Beckham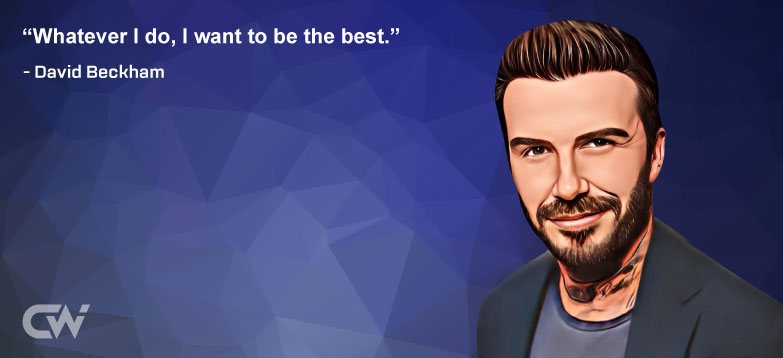 "Whatever I do, I want to be the best.

" – David Beckham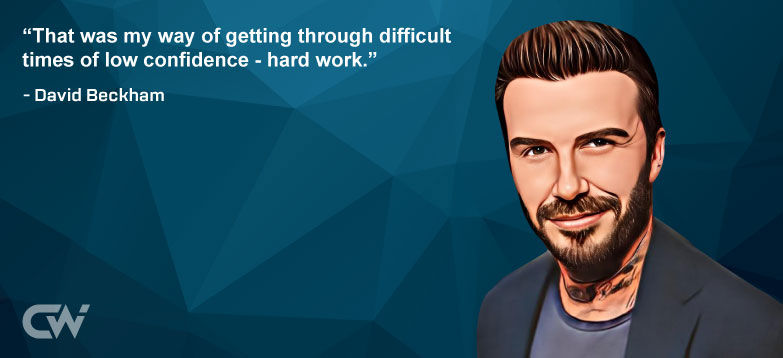 "That was my way of getting through difficult times of low confidence – hard work."

– David Beckham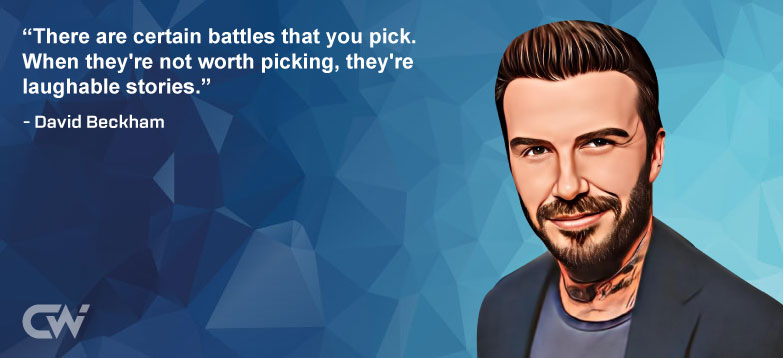 "There are certain battles that you pick. When they're not worth picking, they're laughable stories." – David Beckham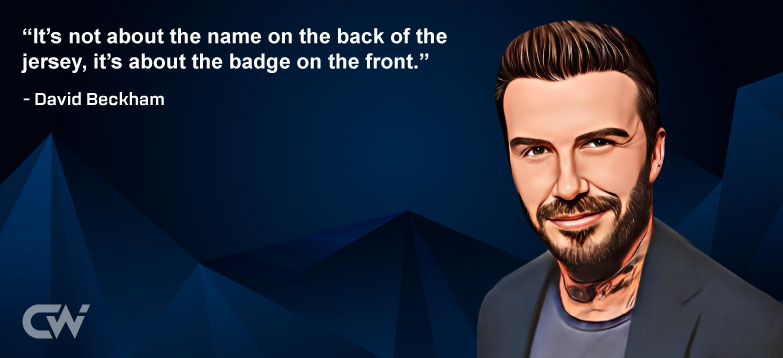 "It's not about the name on the back of the jersey, it's about the badge on the front."

– David Beckham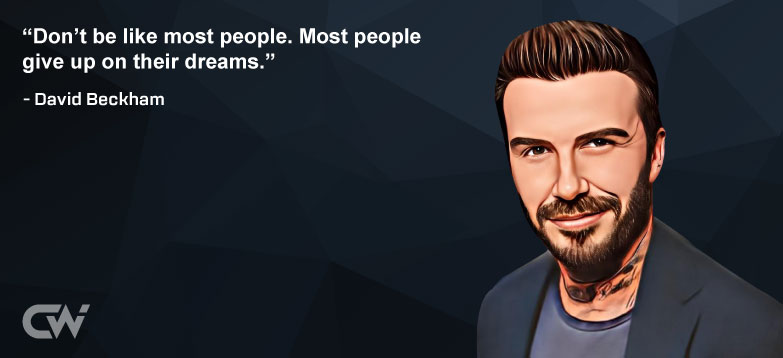 "Don't be like most people. Most people give up on their dreams."

– David Beckham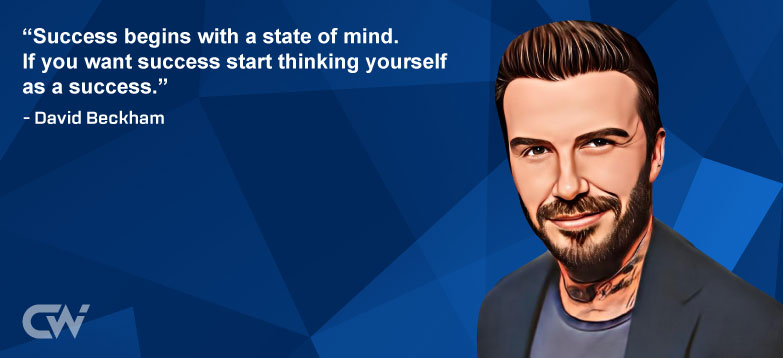 "Success begins with a state of mind. If you want success start thinking yourself as a success."

– David Beckham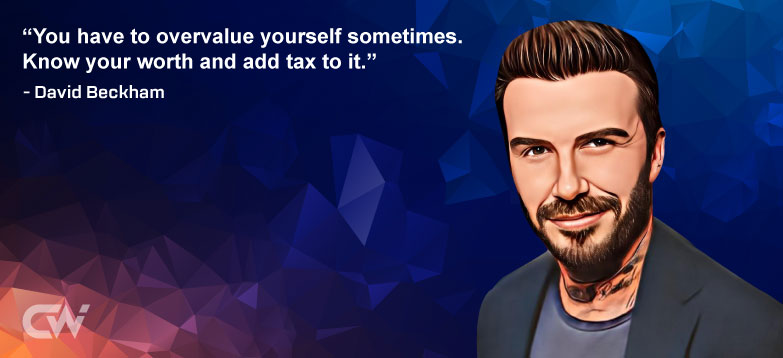 "You have to overvalue yourself sometimes. Know your worth and add tax to it."

– David Beckham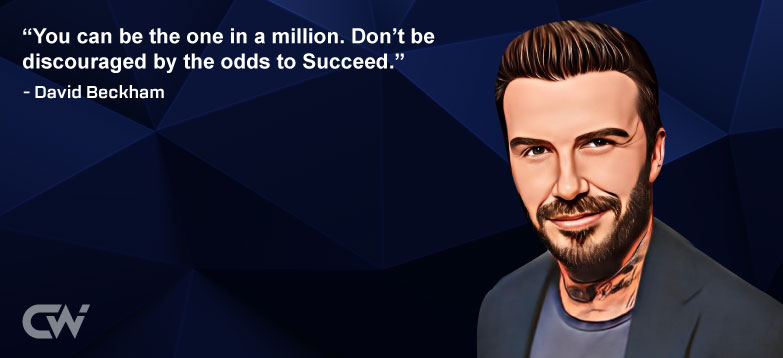 "You can be the one in a million. Don't be discouraged by the odds to Succeed."

– David Beckham
Key Life Lessons from David Beckham
Beckham has made himself a most noteworthy sportsman and maintained his image.
Try identifying and comprehending your life's purpose. Apply it once you've learned it.
Do not consider your competitors or the other team; instead, concentrate on your work. Pay close attention to your work above all else. When you put your all into your task, you will undoubtedly succeed.
Keep a cheerful outlook at all times. People's ability to think positively is what makes for a better life.
Understand what to exclude. After you have examined your life's purpose, see what may be dropped that is a waste of time and has no bearing on it. Abandon it.
Frequently Asked Questions
Why is David Beckham so well-known?
Both for his performance on the field and for his well-reported home life.
What age did David Beckham retire?
38
Beckham, is he the most attractive man?
In The 100 Most Handsome Men in the World 2021, David Beckham is ranked number 37.
Summary
David Robert Joseph Beckham, an English former professional footballer. He was born on May 2, 1975. He is also a co-owner of Salford City and the president and co-founder of Inter Miami CF. David has made over 100 appearances for his national team. And also played in four major leagues across the world Premier League, La Liga, MLA, and Ligue 1. 
---
---