What is Ben Mckenzie Net Worth?
Ben McKenzie Net Worth is USD 13 Million as of 2022.
| | |
| --- | --- |
| Net Worth |  $ 13 Million |
| Born: | September 12, 1978 (45 Years) |
| Gender | Male |
| Also known as | Benjamin |
| Height | 5'8" |
| Weight | 167.6 lbs (76 Kg) |
| Birthplace | Austin, Texas |
| Horoscope | Virgo |
| Country of Origin | American |
| Source of Wealth | Actor, Director |
| Marital Status | Married |
| Spouses | Morena Baccarin |
| Famous For | Ryan Atwood's role in the TV series The OC, a Southland film |
Biography
Ben McKenzie is a popular Hollywood actor and director, who was born in Austin, United States on 12 September 1978. He is well-recognized for TV Series 'The OC and 'Southland'. He acted in several movies such as Junebug in 2005, 88 Minutes in 2007, and Line of Duty in 2019.   He got many Teen Choice award nominations. According to the wealth source, the current net worth of Ben is $ 13 million.
Timeline
His first high-profile role was in 2003, starring as Ryan Atwood in the television series The O.C. and subsequently starred as Ben Sherman in Southland.
In 2008, McKenzie earned critical acclaim for his solo performance in the "live on stage, on film" version of Dalton Trumbo's 1939 novel Johnny Got His Gun, his first starring role in a feature film.
He appeared in the short movie The Eight Percent. The movie won the Delta Air Lines Fly-in Movie Contest and entered as an official selection on the Tribeca Film Festival's Short film category. McKenzie starred as rookie police officer Ben Sherman on the NBC drama Southland, which premiered on April 9, 2009.
In 2010, he played Jim O'Connor in a production of "The Glass Menagerie" at L.A.'s Mark Taper Forum, and in 2011, he voiced Batman/Bruce Wayne in "Batman: Year One" and Odnarb on the animated series "Scooby-Doo! Mystery Incorporated.
Ben began playing detective James Gordon on "Gotham," appearing in every episode of the show's 5-season run.
In 2019, McKenzie appeared in the films "The Report" and "Line of Duty," and in early 2020, he starred on Broadway in "Grand Horizons" at the Hayes Theater.
Early Life
Benjamin McKenzie Schenkkan (Ben McKenzie) was born on 12 September 1978 in Austin, United States. He is an English, Dutch-Jewish, and Scottish descent. He is the son of the lawyer Pieter Meade Schenkkan and his mother Mary Frances who worked as a writer, professor, and journalist. Ben grew up with his two brothers Zack and Nate. His uncle and second cousin are actors. He has done graduation in Economics and International Relations from the University of Virginia in 2001. He played football as a wide receiver while attending High school. After graduation, he shifted to New York where he worked in several part-time jobs. During this time, he participated in Williamstown Theatre Festival and Summer Stock Theater. He also performed in several Off-Off-Broadway productions.
Career
At 23 age, he relocated to Los Angeles and he got a job of waiting tables and stayed with his actor friend Ernie Sabella's apartment. In 2003, Ben was hired for a role in the TV series The OC, where he played the role of Ryan Atwood. The show became famous and his performance earned many Teen Choice Awards nominees.
In 2005, he played a role in the movie 'Junebug', winning more than twenty awards. Ben Mckenzie acted in 'Snakes on a Plane (Pacific Air Flight 121)' in 2006 and later co-starred with AI Pacino in the film '88 Minutes' in 2007. In 2008, Mckenzie played a highlighting role in the movie 'Johnny Got His Gun'. Ben Mckenzie played another character, a police officer Ben Sherman in the film Southland which premiered on NBC in 2009. He also appeared in 'The Eight Percent,' a short film. The film won the Delta Air Lines Fly-in movie contest. In 2010, Benjamin appeared in a role in Off Broadway's, The Glass Menagerie for two months. He also performed in the Batman Prequel TV show 'Gotham' in 2014, as the character of James Gorden.
Ben McKenzie made his directorial debut in the series 'These Delicate & Dark Obsessions'. He also directed one episode of 'Gotham' 'One of My Three Soups'. He wrote 'The Demons Head' the 4th episode of the 4th season of 'Gotham'. He appeared in the 1st season of 'The Accidental Wolf 'series in 2017. In 2019, he got a role in the movies such as Line of Duty and The Report before starring on Broadway in Grand Horizons.
Highlights
The OC (2003)
Southland (2009)
Gotham (2014)
Teen Choice Awards (Nominee)
Bravo Otto Award (Best Male TV Star) (2006)
Favorite Quotes from Ben Mckenzie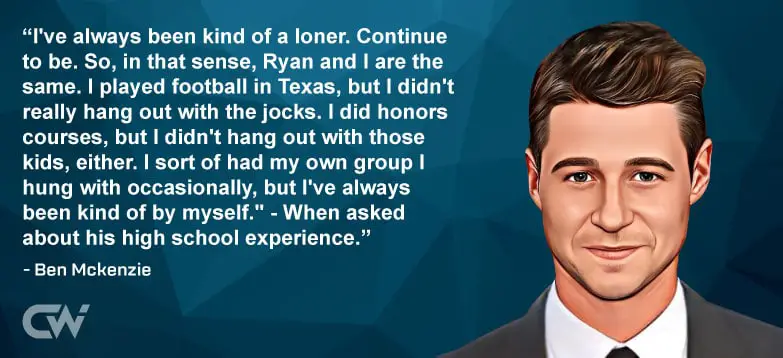 "I've always been kind of a loner. Continue to be. So, in that sense, Ryan and I are the same. I played football in Texas, but I didn't really hang out with the jocks. I did honors courses, but I didn't hang out with those kids, either. I sort of had my own group I hung with occasionally, but I've always been kind of by myself." – When asked about his high school experience. – Ben Mckenzie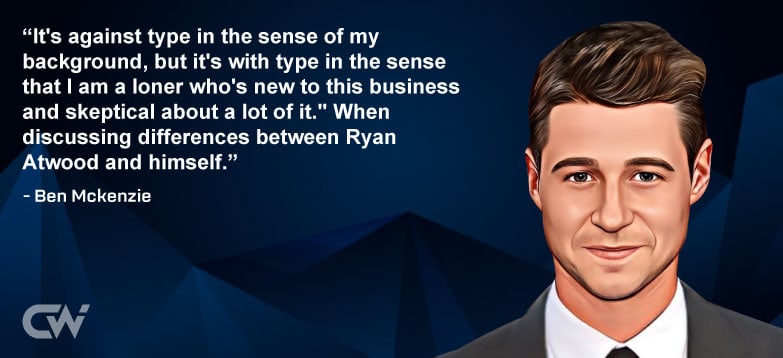 "It's against type in the sense of my background, but it's with type in the sense that I am a loner who's new to this business and skeptical about a lot of it." When discussing the differences between Ryan Atwood and himself. – Ben Mckenzie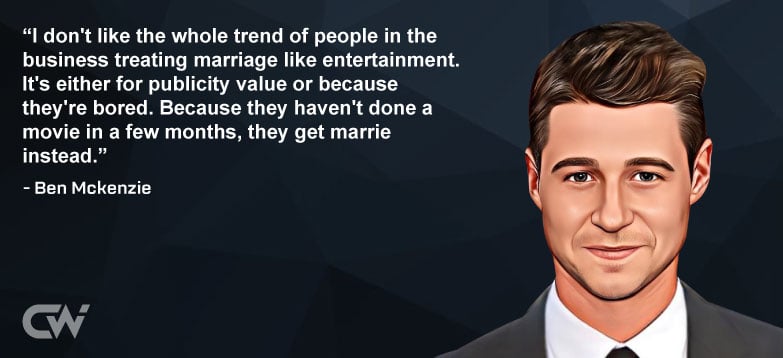 "I don't like the whole trend of people in the business treating marriage like entertainment. It's either for publicity value or because they're bored. Because they haven't done a movie in a few months, they get married instead." – On Young Hollywood weddings. – Ben Mckenzie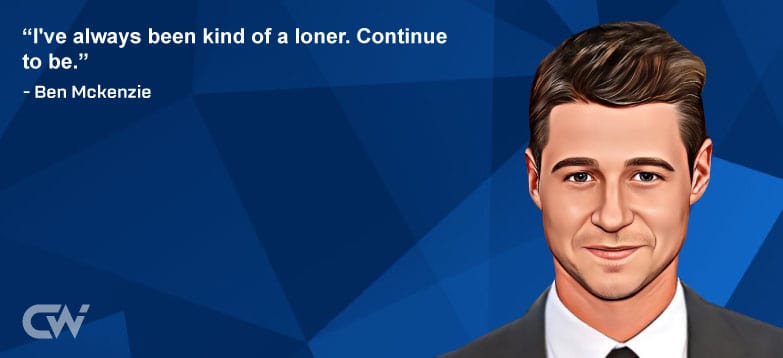 "I've always been kind of a loner. Continue to be." –Ben McKenzie
Keys Life Lessons from Ben Mckenzie 
Hard work
Integrity
The effort is the best indicator of interest
Frequently Asked Questions
What is the Birthplace and Birthdate of Ben McKenzie?
The Hollywood actor Ben McKenzie was born on 12 September 1978 in Austin, Texas, U.S.
Is Ben McKenzie married?
The marital status of Ben McKenzie is Married.
Who is Ben McKenzie?
Benjamin McKenzie Schenkkan is a popular American actor and director, who is well known for his roles as Ryan Atwood in the TV series The OC.
Summary
Ben Mckenzie also known as Benjamin McKenzie Schenkkan, is a famous Hollywood actor as well as director. He is well known for his starring TV roles as Ryan Atwood in 'The OC ', Ben Sherman in 'Southland' and James Gorden in the crime drama 'Gotham'. Ben Mckenzie won a Bravo Otta Germany award for Best Male Television Star in 2006. He received several awards in his acting career. Ben McKenzie has a net worth of around $ 13 Million.
What do you think about Ben Mckenzie net worth? Leave a comment below.
---
---