What is Rick Moranis Net Worth?
Rick Moranis Net Worth is US$ 10 Million as of 2022.
| | |
| --- | --- |
| Net Worth | US$ 10 Million |
| Born: | April 18, 1953 (70 Years) |
| Gender | Male |
| Also known as | Frederick Allan Moranis |
| Height | 5'6 " |
| Birthplace | Canada |
| Horoscope | Aries |
| Country of Origin | Toronto, Canada |
| Source of Wealth | Actor, Comedian, Musician, Producer, and Writer |
| Marital Status | Married |
| Spouses | Anne Belsky (1986-1991) |
| Children | Rachel Moranis (Daughter) |
| Famous For | Danny O'Shea's role in film 'Little Giants' |
Biography
Rick Moranis, also known as Frederick Alan Moranis, is a Canadian actor known for his appearance in several Hollywood Films. Rick Moranis is not only an actor but also a comedian, producer, and musician. He began his career as a radio jockey. His remarkable films are "Strange Brew" in 1983, "The Flintstones" in 1994, "Ghostbusters" in 1984, and many more.
As of 2022, Rick Moranis has made a net worth of US$ 10 million.
Timeline
He started his career as a radio disc jockey, using the on-air name "Rick Allan" at three Toronto radio stations.
Moranis was persuaded to join the third-season cast of Second City Television (SCTV) by friend and SCTV writer/performer Dave Thomas.
Moranis took a hiatus from working in the film industry.
Moranis received his first film credit since 1997 when he provided voice work in the animated film Rudolph the Red-Nosed Reindeer and the Island of Misfit Toys.
Moranis was on the Advisory Committee for the comedy program at Humber College.
Moranis released an album titled "The Agoraphobic Cowboy," featuring country songs.
Moranis reunited with Dave Thomas for the 24th anniversary special of Bob and Doug McKenzie, titled Bob and Doug McKenzie's 2–4 Anniversary.
Moranis released the comedy album titled My Mother's Brisket & Other Love Songs, his first album in eight years.
Moranis and Dave Thomas reprised their Bob and Doug characters at a benefit concert in Toronto.
Moranis returned as the character Dark Helmet from Spaceballs in an episode of The Goldbergs, albeit as a voice. He also appeared in an episode of Prop Culture discussing the film.
Moranis signed on to reprise his role as Wayne Szalinski in Shrunk, a new sequel in the Honey, I Shrunk the Kids series.
Early Life
Rick Moranis was born on 18 April 1953 in Toronto, Ontario, Canada. He was raised in a middle-class Jewish family. Rick went to elementary school with his schoolmate Geddy Lee, the frontman of the 'rock band' and 'Rush band.' For high school, Rick attended the Sir Sanford Fleming Secondary School.
Career
Rick Moranis started his career as a radio disc jockey in 1970 at "Three Toronto radio station." His air name used to be 'Rick Allan.' In 1976, Rick Moranis joined the Canadian television comedian series "Second City Television" (SCTV). He received an Emmy Award for writing and played the role of Bob McKenzie in the film "Strange Brew" (1983). The role he played in the movie" Ghostbusters" in 1984 was based on a similar role in SCTV (1976).
Rick Moranis worked with actor Steve Martin in four films such as "parenthood" in 1989, "My Blue Heaven" in 1990, and "L.A. story" in 1991. He also worked with actor John Candy in films, including "Brewster's Million" in 1985, "Little Shop of Horrors" in 1986, and "The Rocket Boy" in 1989. In 1990, he played Barney Coppersmith in "My Blue Heaven" and Barney Rubble in the movie "The Flintstones" in 1994. Rick has worked in one movie "Ghostbusters" (1984), that has been selected for National Film Registry.
Rick Moranis did more entertainment work such as "Brother Beer 2" in 2006, "The Bob Newhart Show: The 19th Anniversary Special," Comedy album "My Mother's Brisket," and other love songs in 2007. In 2015, he joined the writing staff as a consulting producer of NBC'S "The Blacklist" series.
After the Death of Rick's wife, he took a break from the film industry because it was difficult to manage to raise his children. In 2001, Rick Moranis got his first movie credit since 1997, when Rick provided voice work in animated movies such as "Rudolph the Red-Nosed Reindeer" and "The Island of Misfit toys." Rick Moranis released an album, "The Agoraphobic Cowboy," in 2005. This album was nominated for Grammy Award for Best Comedy Album in 2006.
Highlights
SCTV (1976)
Little Giants (1994)
Honey, I Shrunk the kids (1989)
Brewster's Millions (1985)
Strange Brew (1983)
Big Bully (1996)
Primetime Emmy Awards (Winner) (1982)
Gemini Awards (Winner) (1995)
Grammy Awards (Nominee) (2006)
American Comedy Awards (Winner)
Favorite Quotes from Rick Moranis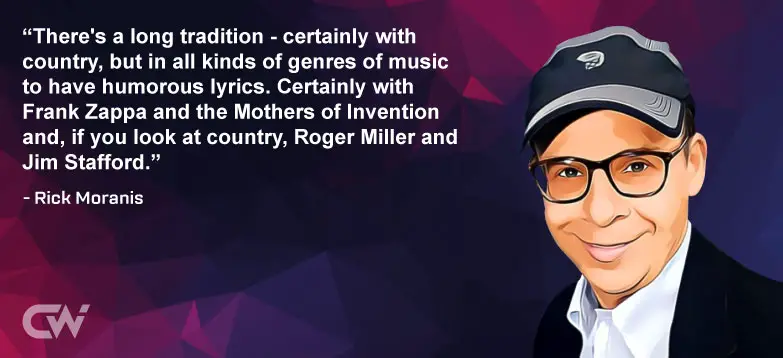 "There's a long tradition – certainly with country, but in all kinds of genres of music – to have humorous lyrics. Certainly with Frank Zappa and the Mothers of Invention and, if you look at country, Roger Miller and Jim Stafford."

– Rick Moranis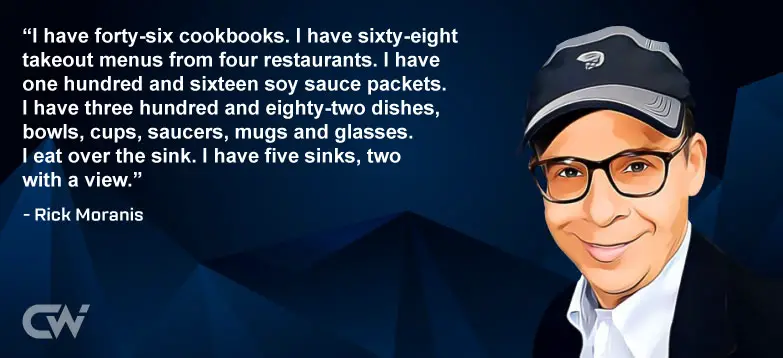 "I have forty-six cookbooks. I have sixty-eight takeout menus from four restaurants. I have one hundred and sixteen soy sauce packets. I have three hundred and eighty-two dishes, bowls, cups, saucers, mugs and glasses. I eat over the sink. I have five sinks, two with a view."

– Rick Moranis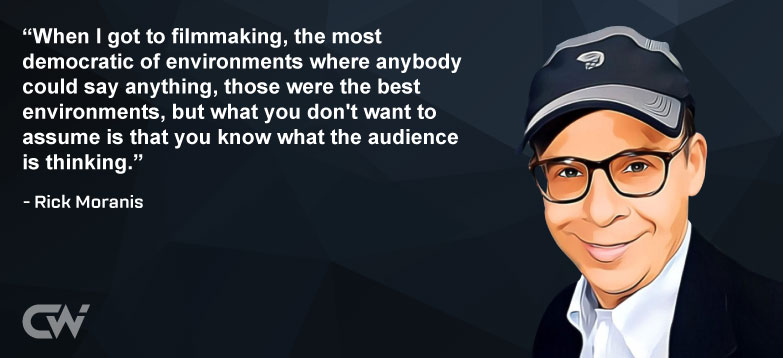 "When I got to filmmaking, the most democratic of environments where anybody could say anything, those were the best environments, but what you don't want to assume is that you know what the audience is thinking."

-Rick Moranis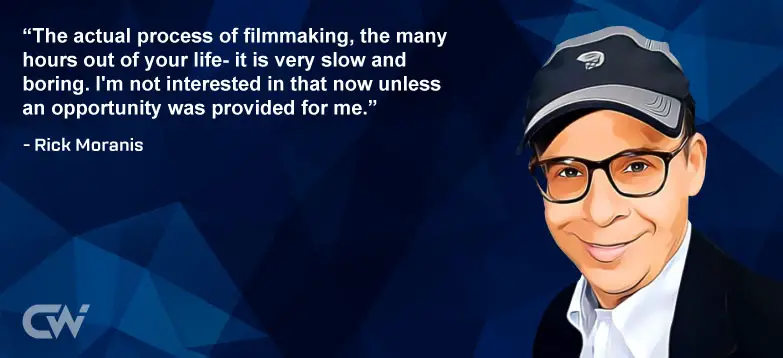 "The actual process of filmmaking, the many hours out of your life- it is very slow and boring. I'm not interested in that now unless an opportunity was provided for me."

-Rick Moranis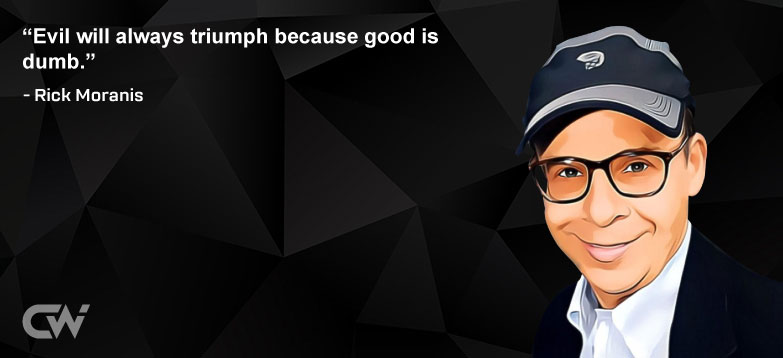 "Evil will always triumph because good is dumb."

– Rick Moranis
Keys Life Lessons from Rick Moranis
We now know everything about Rick Moranis and his net worth. Let's look at some of his lessons.
Responsibility
Be Active
Stay Focused
Work with others
Start with what you have
Frequently Asked Questions
Who is Rick Moranis?
Rick is a professional actor, as well as a producer and a comedian. He is known for his films, including "Ghostbuster," "Spaceballs," "Parenthood," and many more.
Who was Rick Moranis's wife?
Ann Belsky was Rick Moranis wife.
Summary
Rick Moranis is also known as Frederick Allan Moranis. Rick Moranis is one of the influential actors in the film industry. Apart from being an actor, he is an expert as a musician, comedian, and producer also. Rick is known for his hit films such as "Strange Brew," "Brewster's Millions," "Big Bully," etc. Moranis started his career working on several projects, including his own radio show and "SCTV." He earned several awards throughout his career, including the "Primetime Emmy Award," "Gemini Award," and "American Comedy Award," etc.
What do you think Rick Moranis's net worth? Leave a comment below.
---
---